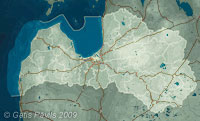 Coordinates:

56°59'39,45'' N 24°10'35,50'' E Google Maps
(localisation not exact, possible mistake up to 100 metres)
More information:
This manor house has not been preserved. In 1895 this manor together with Dragunmuiza manor and Jauna muiža was obtained by chef engineer of Riga city Gustav Adolf Agthe - he planned to develop a district of private villas and large park.
At the beginning of 20th century in the centre of Heil manor there were three wooden buildings. After some time family of Agthe moved over to the main building of manor. Often here resided Baltic German artists and writers, f.e. artists Gerhard and Maria von Rosen, Theodor Kraus, architect Vilhelm Strich and others.
At the end of 1930ies manor became property of Riga city. as the Soviet occupation started manor was included in the area of S.Birjusov political military highschool and historical buildings were dismantled. The landscape of Kisezers bank was transformed as well.
In the picture from 1930ies Heil manor is seen as cosy wooden building in Barocco style. At the entrance there is built rather large veranda with adornments characteristic for the second half of 19th century. House has got tiled roof with the second floor in French roof and some windows above the second floor. Dormers have got forms characteristic for Barocco style.
Images
---
References
Kaupuža D. Rīgas muižiņas. Latvijas architektūra, Rīga, 2005, p.95.
Jakovičs A. Rīgas ekotūrisma atlants, visited in 16th June 2009
Stumbre L., Koka arhitektūras pērles - arī Mežaparkā. Vides vēstis, 2007'4
Viese S. Mežaparks, pilsēta priežu silā, Rīga, Jumava, 2001, p.24.
Rīgas ielas, enciklopēdija, 3.sējums, Rīga, 2009.g., pp.63.,98.