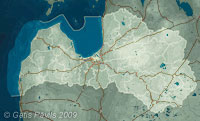 Coordinates:

56°59'48,20'' N 24°10'56,32'' E Google Maps
(localisation not exact, possible mistake up to 100 metres)
| | |
| --- | --- |
| No: | 65 (list of all monuments) |
| Category: | Palaces and manor houses |
| Address: | Riga, Ciekurkalns, between Ezermalas Street and Kisezers Lake, next to the Faculty of Transport and Machine Sicence of Riga Technical University |
| Versions of name: | Neuhof, Bulmerinckshof |
| Year of construction: | ? |
| Condition: | Does not exist |
| Value: | Architecture |
More information:
Manor house has not been preserved.
Merchant V.Kusinkis here established a factory of copper, steel and iron wares in 1852 - most likely it did not operate too long though.
In 1895 chief engineer of Riga Gustav Adolf Agthe obtained this manor together with neigboring Dragunmuiza manor and Heil manor - he planned to establish a district of private villas and large park here after his retirement. Agthe family owned the manor house up to the middle of 1930ies, then it became property of Riga city.
---
References
Kaupuža D. Rīgas muižiņas. Latvijas architektūra, Rīga, 2005, p.95.
Jakovičs A. Rīgas ekotūrisma atlants, visited on 16th June 2009
Stumbre L., Koka arhitektūras pērles - arī Mežaparkā. Vides vēstis, 2007'4
Viese S. Mežaparks, pilsēta priežu silā, Rīga, Jumava, 2001, p.23.
Rīgas ielas, enciklopēdija, 3.sējums, Rīga, 2009.g., p.63.