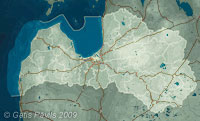 Coordinates:

56°59'39,00'' N 24°10'23,93'' E Google Maps
(localisation not exact, possible mistake up to 100 metres)
More information:
This manor house has not been preserved. In 1895 this manor together with the neighboring Heil manor and Jauna muiza was obtained by the chief engineer of Riga City Gustav Adolf Agthe (1850 - 1906) who was planning to develop a district of private villas and large park here after his retirement.
In accordance with the memories of the former inhabitant of this manor Janis Blakis (3.) there was built a wharf in the Kisezers lake next to the manor. It was used by boats from Suzi and Liepsalas for further transport of milk to Riga. Afterwards the milk was transported by hardly passable road. Next to Dragunmuiza manor there was polluted, overgrown ditch. Manor itself was very extensive.
At the beginning of 20th century the manor house was loghouse with two floors. In the upper floor there were two apartments with two rooms each, in ground floor - apartments with three rooms and veranda. Next to the house there was a barn rebuilt into apartment, dry toilets, cart-house, horse shed, ice-house, well, cattle-shed and at the road - hay shed. Manor had also four subordinated farmsteads.
Manor house was standing up to late 1970ies at least. Picture from 1970ies shows a building with one floor with high roof - in 1970ies this roof was sheeted with tin.
---
References
Jakovičs A. Rīgas ekotūrisma atlants, visited on 16th June 2009.
Stumbre L., Koka arhitektūras pērles - arī Mežaparkā. Vides vēstis, 2007'4
Viese S. Mežaparks, pilsēta priežu silā, Rīga, Jumava, 2001, p.20.