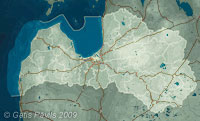 | | |
| --- | --- |
| Coordinates: | 56°59'42,45'' N 24°11'14,86'' E Google Maps |
| | |
| --- | --- |
| No: | 63 (list of all monuments) |
| Category: | Urban apartment houses |
| Address: | Riga, Ciekurkalns, Ezermalas Street 6, in the area of institute between newer buildings |
| Year of construction: | Late 19th c. - early 20th c. |
| Architectural style: | Eclectic, Neo-Barocco |
| Condition: | Very poor |
| Value: | Architecture |
| Conservation status: | Not protected |
More information:
Once this was ornate villa, most likely built at the late 19th - early 20th century on the land of former manor houses, which was divided in building plots.
Closer to Kisezers Lake there were three manor houses close together - Dragunmuiza manor, Heil manor and Jauna muiza. At the end of 19th century all these manors belonged to the chief engineer of Riga Gustav Adolf Agthe. In 1895 Agthe handed in documents which served as a basis for division of the land of Jauna muiza in construction plots for private owners. Other ovners of manors in Riga did the same at this time and the location of the land next to Kisezers could be considered to be a special value.
Thus we can consider that this villa has appeared as a result of these activities - unfortunately there are no historical neighboring buildings or they have perished later.
Now this villa has been surrounded by large buildings of institute built in Soviet time, landscape around the villa has been degraded. Villa has been heavily damaged by fire recently and roof has caved in.
Images
---
References
Viese S. Mežaparks, pilsēta priežu silā, Rīga, Jumava, 2001, p.26.