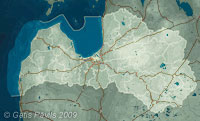 | | |
| --- | --- |
| Coordinates: | 56°56'51,91'' N 24°06'39,16'' E Google Maps |
| | |
| --- | --- |
| No: | 161 (list of all monuments) |
| Category: | Medieval castles |
| Address: | Riga, Vecriga, in the block between Jana seta, Skarnu, Jana and Kaleji Streets |
| Versions of name: | I Bishofshof, Domus episcopi |
| Year of construction: | Circa 1201 - 1204 |
| Architectural style: | Romanic (castle), Late Gothic (cloister) |
| Condition: | Remnants included in later buildings |
| Value: | Architecture, archaeology |
| Conservation status: | As a monument of archaeology included in the archaeological complex of Old Riga (No.2070) |
More information:
The first court of Riga bishop was built at the right bank of Ridzene river - this river has been filled up later. This castle was one of the first stone buildings in Riga. There have survived only remnants which have been included in later buildings.
History
In accordance with the Chronicle of Henrikus Bishop of Riga Albert in 1201 moved his seat from Ikskile (Üxküll) to Riga. Most likely one of the first buildings in this new settlement was so called court of bishop. It has been mentioned in chronicles later - in 1207, when bishop Albert received guests - Vesceke, ruler of Koknese - at his residence. When Albert in 1214 headed to Germany, he left in Riga Phillip von Ratzeburg. In March 1215 there burned down the oldest part of the city up to the house of bishop. After this fire chronicler does not mention house of bishop anymore.
In 8th September 1234 after the wish of papal legate Wilhelm from Modena the fourth bishop Nikolaus alloted his stone castle and land belonging to it to Dominican order (so called black monks) - it was located in the oldest part of Riga at Ridzene river. By this time there could be complede next - second court of bishop.
Dominican monks established here cloister with a church which was dedicated to St.John (Jana church). It is possible that initially for this church there was used chapel of the castle. In cloister there was also library, here was garden and cemetery.
In 1523 Riga city abolished this cloister and took over its properties. Buildings were used for economical purposes. Buildings of cloister were last rebuilt in 15th century but the church after several reconstructions still is there. Up to 1783 here was located prison - house of forced labour. In 1792-1828 here was located St.Nicholaus poorhouse and workhouse. In 1828 - 1892 in Jana seta there were city police barracks.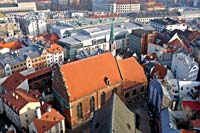 View towards St.Peters church tower to the location of I court of bishop. Jana church in forefront.
2008.11.12.
Description
There is little information about the outlook of the court of bishop. Some knowledge about the main buildings - palace and chapel - can be obtained from the fragments of these buildings in the walls of later buildings. Thus for example next to the apse of Jana church from 16th century, under newer building W.Neumann in 1909 discovered cellar of medieval building. This building was dismantled in 1930 and there were found other remnants of older buildings. In the thoroughfare of the pastorate of Jana church there have been found remnants of the former castle cloister.
In the basement of apartment building in Jana Street 3 in 1968 (R.Zandberga) there is 3 metres thick wall - according to the finder this could be the base of quadrangular tower. A.Caune though considers that this tower could be located elsewhere - near Kaleju Street.
Nowadays Jana church has enclosed the ancient chapel of the castle - it was located in the northeastern part of present day church. During the investigation of this church there have been found remnants of the old chapel.
To a greater extent there have been preserved remnants of the later cloister buildings. There still exists the old southeastern entrance in the cloister - current entrance in Jana seta along the Jana church. In the wall above the gate there is decorative archivolto in Late Gothic style.
In 1930, as there was built pastorate of Jana church, there was dismantled stone plate floor of dining-hall and bases of romanic columns.
---
References
Caune A., Ose I. Latvijas 12.gadsimta beigu - 17.gadsimta vācu piļu leksikons. Rīga, Latvijas vēstures institūta apgāds, 2004, pp.43.,392.
Krastiņš J., Strautmanis I. Lielais Rīgas arhitektūras ceļvedis. Rīga, Puse. p.30.
Rīgas ielas, enciklopēdija, 3.sējums, Rīga, 2009.g., pp.197.,205.