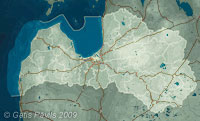 | | |
| --- | --- |
| Coordinates: | 56°56'56,41'' N 24°06'09,33'' E Google Maps |
| | |
| --- | --- |
| No: | 163 (list of all monuments) |
| Category: | Medieval castles |
| Address: | Riga, Vecriga, in the block between 11.novembra krastmala, Miesnieku, Muku Streets, Herdera square and Biskapa gate |
| Versions of name: | II Bischofshof, Curia domini archiepiscopi, Dat Stift |
| Year of construction: | Before 1234 |
| Architectural style: | Gothic |
| Condition: | Does not exist |
| Value: | Architecture, archaeology |
| Conservation status: | As a monument of archaeology included in archaeological complex of Vecriga (No.2070) |
More information:
Castle has been built as the residence of Riga Bishop and Riga Archbishop. Nowadays there are no remnants of this castle above the soil.
History
It is not exactly known when the castle is built. In 1234 Bishop Nicholaus granted I court of bishop in Riga to Dominican Order - we could consider that by this time there was completed second castle. In 13th century this castle was the main residence of Riga Bishop and later - Riga Archbishop. As the time went by, archbishops had other residences as well.
In accordance with the references from 15th century in the second court of bishop there were horse stables, chapel devoted to apostle Bartholomaeus and palace - residential building.
In the time of Archbishop Michael Hildebrand in 1495 there was performed larger reconstruction which was 4000 Riga marks worth. In 1597 this castle suffered heavily in the Great Fire of Riga but was inhabitable - up to his death in 1563 here resided last Archbishop of Riga Wilhelm von Brandenburg.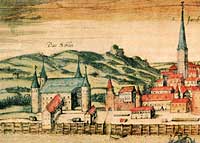 II court of bishop - buildings with towers in the right side of picture, to the right from Riga castle. Engraving by F.Hogenberg.
1572
Stefan Batory in 1582 granted this castle to Riga city, there was mentioned that buildings are old and collapsing. In 1652 Riga city ordered to rebuild the remains of the residential building - palace into city granary. Gradually there were demolished other buildings and surrounding wall of court and new residential buildings built instead.
In 1877 the land plot with the granary was sold by city to private owner for construction of tenement building. During the demolition of granary it was inspected by N.Bockslaff and J.Döring, they have left short notice. Researhers found some architectonic details to be interesting - but there were not made any drawings.
Description
Castle of bishop is seen in two pictures of Riga from 16th century. There is seen that the protective wall facing Daugava constituted part of Riga city wall. Castle had two towers - at each end of the court. At the level of second floor castle got large Gothic - arched - windows.
In the plan of Riga from 1858 there still is seen the old granary - former castle. It was located at southwestern side of court, in parallel to Daugava. Inner yard of castle nowadays is marked by Muzeja Street and Muku Street.
---
References
Caune A., Ose I. Latvijas 12.gadsimta beigu - 17.gadsimta vācu piļu leksikons. Rīga, Latvijas vēstures institūta apgāds, 2004, pp.43.,395.