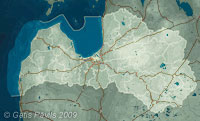 Coordinates:

56°55'32,77'' N 24°05'32,39'' E Google Maps
(localisation not exact, possible mistake up to 50 metres)
| | |
| --- | --- |
| No: | 154 (list of all monuments) |
| Category: | Palaces and manor houses |
| Address: | Riga, Tornakalns, at the eastern side of ancient Jelgava tract, some 2,8 kilometres from Riga centre, most likely - junction of current Jelgavas Street and Bauskas Street, Jelgavas Street 78 |
| Versions of name: | Hermannsruh |
| Year of construction: | Late 18th c. |
| Condition: | Does not exist |
| Value: | Architecture |
More information:
Hermann manor was located in Pardaugava next to the road to Jelgava, some 2,8 km from Riga centre. It was on the junction of Jelgava road and the new (then) Bauska road.
Manor house at the end of 18th century was established by merchant Hench. In 1797 manor house was purchased from him by officer and the elder of Great Guild Gothard Hermann von Ramm (since 1801 also Riga town councillor) and it served as pleasure site and summer house in Pardaugava. To the brother of Gotthard Hermann - Joachim, renowned doctor - belonged Aderhold manor in Brasa next to Military hospital.
J.C.Brotze has pictured this building in 1792, showing one floor wooden building with steep tiled roof where the gable and pediment have been built with fachwerk.
Images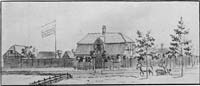 Hermann manor. Cart in this picture goes towards the centre of Riga along Jelgava tract. J.C.Brotze. 1797
---
References
Broce J.K. Zīmējumi un apraksti, 2.sējums. Rīga, Zinātne, 1996, pp.226.,244.
Latvijas piļu un muižu asociācijas mājaslapa, visited on 21st June 2009.