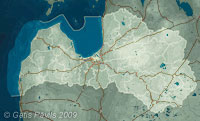 Coordinates:

56°58'36,49'' N 24°08'23,04'' E Google Maps
(localisation not exact, possible mistake up to 300 metres)
| | |
| --- | --- |
| No: | 45 (list of all monuments) |
| Category: | Palaces and manor houses |
| Address: | Riga, Brasa, in area of Hospitalu Street, possibly - north from Upes Street |
| Versions of name: | Ramma muižiņa, Rammsche Höfchen, Aderholdshen |
| Year of construction: | Late 18th c. |
| Condition: | Does not exist |
| Value: | Architecture |
More information:
Manor next to War hospital has been built at the end of 18th century. Not preserved.
History
Aderhold manor house has been construcetd by the baker and head of St.Gertrude church Johan August Aderhold. It was one of the few suburban manor houses built by craftsmen of Riga.
Aderhold is not born or died in Riga and he did not leave descendants. At the beginning of 19th century the manor was purchased from him by doctor Joachim von Ramm - people named the manor house after him - Ramm manor next to War hospital. Ggrandfather of J. von Ramm was mayor of Bauska, but father Hermann - merchant in Riga, who purchased diploma of nobility in 1788. Thus his son was entitled to write "edler von" before his family name. J. von Ramm studied medicine in Jena. In 1803 he together with doctor K. Stofregehn started to introduce inoculation against smallpox in Riga - he demonstrated harmlessness of this activity on his sons. In 1803. - 1809. he was director of the hospital for the poor.
In ca. 1806 Ramm sold manor and purchased Sprestini half a manor in Dauguli, Vidzeme.
Description
In the drawing from J.C.Brotzes (1803) there is shown simple one-floor log building with steep tiled roof. Judging by the steep coast of Daugava valley next to the house and towers of Old Riga in the background we can assume that the manor is shown from the northern side. Builing is located at the junction, road which leads to the centre of Riga has got fence on the other side what means that there is another building next to Aderhold manor. Manor has got several household buildings and log fence.
---
References
Latvijas piļu un muižu asociācijas mājaslapa, visited on 12th June 2009.
Broce J.K. Zīmējumi un apraksti, 2.sējums, Rīga, Zinātne, 1996, p.200.