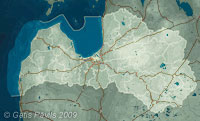 | | |
| --- | --- |
| Coordinates: | 56°55'47,63'' N 24°04'51,02'' E Google Maps |
| | |
| --- | --- |
| No: | 151 (list of all monuments) |
| Category: | Palaces and manor houses |
| Address: | Riga, Tornakalns, O.Vaciesa Street 19 |
| Versions of name: | viesnīca "Jeruzaleme", Šrēdera muižiņa |
| Year of construction: | 1770ies, first quarter of 19th c., 1870ies |
| Architectural style: | Barocco |
| Condition: | Rather good |
| Value: | Architecture |
| Conservation status: | Architecture monument of local importance No 8540 |
More information:
Initially this house was built as hotel "Jeruzaleme", at the first quarter of 19th century transformed into manor house, but now it is museum of poet O.Vācietis.
History
Building was built in 1770ies on the land what belonged to the neighboring Vite manor before. Around this manor there were sand hills but location on the slope, next to Mara mill pond made it pleasant. Initially it was built as a tavern by Jacob Bick, 42 years old bricklayer from Riga. Up to 1795 at least here were living daughter and son of the deceased innkeeper Carl Ernst Lessing, journeyman, servant and maid from Poland as well as an old snip from Courland with his wife. Second owner of manor was merchant and officer Teodor Henrich von Schroeder - obtained it soon after it was built and tended surroundings of the manor.
Altona road (current O.Vaciesa Street) has been mentioned already in 1812 as a road leading to Altona manor - belowed location for public gaiety and summer excursions. At this time it belonged to laawyer A.Roeder - he let this hotel to the former steward of society "Musse" Gedecke. Up to the second half of 19th century in Altona there were held open-air concerts, this was very popular site for Janis festivity.
In 1991 there took place architectonis survey ot the building by G.Vanags. Nowadays here is located museum of poet O.Vācietis.
Description
The house has been built in third quarter of 18th century, in Barocco style.
Loghouse with French roof, located athwart to the street and Mara mill pond. Engraving by J.H.Klokov shows that for roof covering there were used offcuts of logs. Meanwhile in the drawing of J.C.Brotze (1792) house has got tiled roof and pediments with fachwerk. In 1870is there is built an aisle athwart, with vertical planking.
Rooms in the house had beautiful tapestry, dated with 1821, glued directly on the logs. Tapsetry was in bright black and red colors with green and brown details. There has been found also next tapestry layer from circa 1826 - 1831.
Images
---
References
Koka Rīga, Rīga, Neputns, 2001, pp.93.,95.,174.,207.
Kaupuža D. Rīgas muižiņas. Latvijas architektūra, Rīga, 2005, p.95.
Broce J.K. Zīmējumi un apraksti, 2.sējums. Rīga, Zinātne, 1996, pp.241.,242.
Rīgas ielas, 1.sējums. Rīga, 2001, p.135.