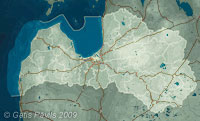 | | |
| --- | --- |
| Coordinates: | 56°55'29,88'' N 24°04'21,22'' E Google Maps |
| | |
| --- | --- |
| No: | 34 (list of all monuments) |
| Category: | Palaces and manor houses |
| Address: | Riga, Bierini, Zvardes Street 1 |
| Versions of name: | Grave manor, Vite manor, Lieven manor, Vietinghof manor, Wittenhof, Lievenhof, Vitinghofs-Hof |
| Year of construction: | 1750ies - 1760ies |
| Architectural style: | Barocco, Rococo |
| Condition: | Poor, reshaped |
| Value: | Architecture |
| Conservation status: | Architecture monument of state importance No. 6675 |
More information:
Up to the recent times interior and elements of furnishing of Borhert manor belonged to most valuable witnesses of Barocco time in Riga.
History
J.C.Brotze has depicted the similar Vite manor with similar location in his work - thus we can assume that manor of Lieven and Borhert manor is one and the same building. In accordance to Brotze manor of Lieven is located 2,8 km from Riga, behind Mara Mill, and named after its owners - manor of Vietinghof, Witte, Lieven.
Current manor house has been built in 1750ies - 1760ies. (1)
In 1782 - at the time when Brotze depicted it - the manor belonged to widow of major-general Otto Heinrich von Lieven. Later it was purchased by surveyor Ziegenhirt. One the properties of this manor there was built Jerusalem tavern - later Altona manor.
In 1990ies there was performed architectonic research of the building and obtained valuable knowledge about the initial interiors of the building. Unfortunately shortly afterwards - in 1999 - there was performed rebuilding and many valuable elements were lost. Currently the building stands without any permanent use.
Description
Up to this day in the historical centre of Borhert manor there have been preserved two ol buildings and remnants of the park.
Manor house is a structure of horizontal beams.
Interior and construction elements of the building have special value. There was the best set of Rococo style windows in Riga. Unfortunately in the repairs of 1999 these elements were lost.
Building had the oldest known wallpaper in Riga from the third quarter of 18th century. This wallpaper was handmade.
Images
---
References
Koka Rīga, Rīga, Neputns, 2001, pp 98.,168.,191.,220.
Kaupuža D. Rīgas muižiņas. Latvijas architektūra, Rīga, 2005, p.95.
Latvijas piļu un muižu asociācijas mājaslapa, vvisited in 13th June 2009.
Broce J.K. Zīmējumi un apraksti, volume 2, Rīga, Zinātne, 1996, p.243.
Viese S. Kas ir Mežaparks? Dabas un vēstures kalendārs'2000, Rīga, Zinātne, 1999.