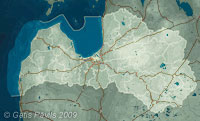 | | |
| --- | --- |
| Coordinates: | 56°58'00,34'' N 24°17'20,69'' E Google Maps |
| | |
| --- | --- |
| No: | 98 (list of all monuments) |
| Category: | Palaces and manor houses |
| Address: | Riga, Jugla, Maza Juglas Street 43 |
| Versions of name: | Sepmuiza, Ezerkrasti |
| Year of construction: | Early 19th c.? |
| Architectural style: | Neo-Classicism, Empire style |
| Condition: | Very good |
| Value: | Architecture |
| Conservation status: | Architecture monument of state importance No. 6637 |
More information:
One of the most tended and most elegant manor houses in Riga is Zeluste manor.
See also other residential buildings from this manor - in Maza Juglas Street 45 and Maza Juglas Street 47.
History
Name of the manor "Seelust" originates from German language and means "joy of lake".
Manor (but not the current buildings) seems to be mentioned in written sources already in 17th century but - at the end of 17th century it is not marked in maps thus there are doubts if this manor is that old. Building is built at the first half of 19th century as summer residence - then owner of the manor was Swedish baron M.Holst.
In 1763 Zeluste manor was built on the land of Mazjumprava manor, Pelede farmstead by contractor J.H.Voivod as a summer residence. Soon here was established manufacture of green soap which later was transformed into factory of starch and toilet powder. After M.Holst the owner of the manor was estate manager Sheppe - manor got its name from him.
Building and surrounding landscape has been restored in 2006 by its owner Kaspars Viskints, one of the co-owners of company "Elko".
Description
Small wooden building is adorend with semicircular window with the Empire style strutting.
Earlier the interior of the building was adorned with tapestry on logs. Ceiling was covered with lime plaster on reed. WHen restoration started, pieces of original tapestry were found only meloc the jambs of doors and windows and could not provide full onformation about the design of tapestry. Most used designs were floral motives, treillage ornament, pearl strings. Drawings were ordered in vertical columns. Most used colors - green, blue, grey and pink.
Images
---
References
Koka Rīga, Rīga, Neputns, 2001, 91., 174., 223.lpp.
Kaupuža D. Rīgas muižiņas. Latvijas architektūra, Rīga, 2005, p.95.
Jakovičs A. Rīgas ekotūrisma atlants
Latvijas piļu un muižu asociācijas mājaslapa, visited on 19th June 2009.
Broce J.K. Zīmējumi un apraksti, 2.sējums, Rīga, Zinātne, 1996, p.127.