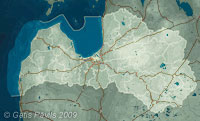 | | |
| --- | --- |
| Coordinates: | 56°53'28,62'' N 24°11'54,26'' E Google Maps |
| | |
| --- | --- |
| No: | 130 (list of all monuments) |
| Category: | Palaces and manor houses |
| Address: | Riga, Rumbula, bank of Daugava, near Maskavas Street 344 |
| Versions of name: | Blūmendāle, Jungfernhoff, Jungfernhof, Blumenthal, Mazjumpravas muiža |
| Year of construction: | Most likely constructed several times |
| Architectural style: | Neo-Classicism |
| Condition: | Remnants |
| Value: | Architecture, archaeology |
| Conservation status: | Not protected |
More information:
Little Jumpravmuiza manor is one of the oldest manors in vicinities of Riga. Surprisingly it existed up to latest time. Unfortunately now the manor house is in ruins.
History
13th - 16th century
History of Little Jumpravmuiza (Mazjumprava) manor started latest in 1259. Then land properties here from Archbishop Albert were obtained by Cistercian nunns, here lived some farmers as well. In medieval times up to 17th century this manor was named Blumendahl (Flower dale), but people started to call it - Jumpravmuiza - after the nuns living here (jumprava in Latvian - maiden). In order to distinguish from another Jumpravmuiza upstreams this one was called - Little Jumpravmuiza. At the end of 16th century manor was obtained by Jesuits of Riga.
Riga city added wast area to this manor from Daugava to Jugla Lake and Kisezers Lake, Ulbroka, Rumbula. There were also land properties across Daugava from Kekava and Misa river to Tornakalns and Biekensala. Mazjumprava was the largest manor in Riga patrimonial district with rather many and diverse inhabitants. Over the time here were established other manors as well.
17th century
As Swedes conquered Vidzeme and Jesuits left it, in 1627 Gustav II Adolphus allocated Mazjumprava manor to the Riga master of coinageMartin Wulf (as he became landlord - he became Wulfenschield), in 1636 Wulfenschield solf manor to Riga per 7000 thalers, in 1637 this purchase was affirmed by the king of Sweden.
18th century
In 1700 Daugava ar Jumpravmuiza was traversed by joint Russian - Saxonian forces. Troops of carl XII gave a froceful stroke near Mazjumrava and Russians and Saxonians retreated over their own built bridge. Swedes got in Mazjumprava warm meal prepared by Saxonians.
In early 18th century owner of this manor became Paul Brockhusen. When attacking Russian troops settled around this manor in Kad 1709, Brockhusen did not allow them to stay in manor house and soldiers had to reside at farms nearby. Due to this Brockhusen was exiled to Siberia in 1716. Manor was managed by his sons then. The youngest son - Georg Brockhusen - was notorious due to his stinginess and cruelty. When he obtained Dunte manor in Vidzeme, in Mazjumprava there were torn down chimneys, stoves and removed windows and doors - to be shipped to Dunte. Later, after receiving many claims from farmers who were taken down to misery, revision found out that Brockhusens have brought Mazjumprava to ruins, land was depleted. They even tore out fruit-trees here to replant them in Dunte. After the death of Georg Brockhusen this manor was taken over by Riga in 1752.
In 1797 on the land of manor there were living 3 357 people, including 1 132 serfs and 1 170 people from other regions. Somewhere around 1777 there was detached Olaine patrimonial manor with Plakanciems, in 1799 there was established Dreilini patrimonial manor closer to Jugla Lake.
At the end of 18th century Jumpravmuiza was not especially affluent and here for most part lived poor farmers.
19th century
In 19th century here lived painter Johans Heinrihs Baumanis, father of the first Latvian architect Johans Fridrihs Baumanis.
20 -21st centuries
After the Second World War centre of manor was included in military area of occupation army, manor house was used as dispansery for pilots. As the army left, turned out that manor house still exists - although in very ad condition. Unfortunately it was not managed - if a brutal attempt to rebuild it into leisure center is not counted. In spring 2009 here were left only ruins, surrounding area is degraded, there are seen remnants of park.
Description
Since ancient times next to manor house there was one of three Daugava crossings in vicinities of Riga. Next to manor in later times there was also windmill.
In 1793 in the map of Robert Rennie (2.) there is shown palace garden with radial planning centered around some object - sculpture, fountain os similar.
The last manor house was shaped in Neo-Classicism style.
Images
---
References
Kaupuža D. Rīgas muižiņas. Latvijas architektūra, Rīga, 2005, p.95.
Broce J.K. Zīmējumi un apraksti, 2.sējums, Rīga, Zinātne, 1996, pp.33.,272.
Villeruša V. Gājums, Rīga, Kabata, 1994, p.34.