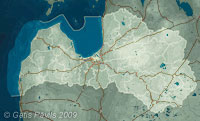 | | |
| --- | --- |
| Coordinates: | 56°57'59,90'' N 24°17'23,28'' E Google Maps |
| | |
| --- | --- |
| No: | 96 (list of all monuments) |
| Category: | Palaces and manor houses |
| Address: | Riga, Jugla, in Mazas Juglas Street 45 |
| Versions of name: | Sepmuiza, Ezerkrasti |
| Year of construction: | 1763. |
| Condition: | Very good |
| Value: | Architecture |
| Conservation status: | Architecture monument of state importance No. 6637 |
More information:
Manor house in Mazas Juglas Street 45 has been built in 1763.
See also other residential buildings in this manor centre in Mazas Juglas Street 43 (includes also history description) and Mazas Juglas Street 47.
Built as summer residence. There have been preserved valuable construction details including windows with a shape close to square, with two shutters divided by spindle.
---
References
Koka Rīga, Rīga, Neputns, 2001, pp.91.,219.
Latvijas piļu un muižu asociācijas mājaslapa, visited on 19th June 2009.