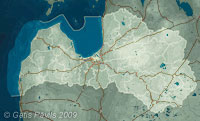 Coordinates:

56°57'07,12'' N 24°00'41,78'' E Google Maps
(Localisation not exact, possible mistake up to 150 metres)
| | |
| --- | --- |
| No: | 200 (list of all monuments) |
| Category: | Palaces and manor houses |
| Address: | Riga, Imanta, soueth from Jurmalas gatve, between Anninmuiza boulevard and Dumbraja Street |
| Versions of name: | Annenhof, Marianna manor, Meinert manor, Meinershoff, Meyners Hof |
| Year of construction: | 18th century |
| Architectural style: | Barocco? |
| Value: | Architecture |
More information:
Up to current times there has been preserved the newer Anninmuiza forest palace, but the older wooden building has perished.
Anninmuiza ar property has been mentioned first in 1595.
In the 18th century in the centre of Anninmuiza manor there was wooden residential building, cattle shed and stable. In 1768 the owner of Kleisti manor Gotthard von Vegesack let out Anninmuiza (in 18th century - Meinert manor) to the owner of Zolitude manor Otto von Vietinghoff gen. Scheel. As Vietinghoff married to Anna Ulrich von Minih, manor was renamed to her name - Anninmuiza. Often here were arranged open-air parties, performances and people gave a nickname to manor - "jolly manor". In 1795 Anna sold this manor together with Zolitude and Sampeteris manors to Otto Heinrich von Igelström.
In 1817 the owner of the manor was baker Georg Losberg. In future years owners of manor changed - in 1842 - J. E. Schmid, in 1843 - N. Hill. In 1849 manor belonged to shoemaker J. K. Villems, in 1851 - to merchant Karl Ferdinanda Miller. In 1889 it became a property of broker K.Jensen and his family owned it up to 1920ies. At the last quarter of 19th century next to the former manor centre there was built the new residential building and shaped a park with regular planning.
Manor has been shown in the map from 1917.
In 19th century there were popular stories about weird apparitions in Anninmuiza, which started to appear after the death of Otto von Vietinghoff - due to these events widow decided to sell the manor. Land of manor has been divided on construction plots in 1930ies.
Images
---
References
Plan von Riga, 15 November 1917
Rīgas ielas, enciklopēdija, 3.sējums, Rīga, 2009.g., p.261.