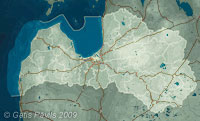 | | |
| --- | --- |
| Coordinates: | 56°57'06,45'' N 24°00'57,82'' E Google Maps |
| | |
| --- | --- |
| No: | 82 (list of all monuments) |
| Category: | Palaces and manor houses |
| Address: | Riga, Imanta, Jurmalas gatve 76, south from the building of Pedagogy faculty |
| Versions of name: | Annenhof Waldschloss, Meinert manor, Meinershoff, Meyners Hof |
| Year of construction: | Last quarter of 19th century |
| Architectural style: | Neo-Rennaisance |
| Condition: | Rather bad |
| Value: | Architecture |
| Conservation status: | Architecture monument of local importance No 7722 |
More information:
There are just few stone manor palaces in Riga - one of these buildings is the Anninmuiza residential building (so called "forest manor") from last quarter of 19th century, shaped in Neo-Rennaisance style.
Anninmuiza ar property has been first mentioned in 1595. See the description of the history of Anninmuiza at the description of old manor building.
In 1889 Anninmuiza became property of broker K.Jensen and his family owned it up to 1920ies. At the last quarter of 19th century next to the old manor centre there was built a new residential building and created a park with regular planning. Architect of the building is not known.
Manor house has been demolished in the unrest of 1905, after the First World War it was left standing heavily damaged for some time, later it was renewed. In 1948 the land was allocated for creation of agricultural technical college. In 1930ies in the Anninmuiza park there often took place festivities and open-air parties. Since 1957 here was located 2nd boarding-school. Since the beginning of 1970ies Anninmuiza is managed by Latvian University. initially here was located Faculty of Geography, now - Faculty of Pedagogy and service hotel. In the manor house there are located workshops for students and museum of history of pedagogy.
The building has not been seriously reshaped, is in use but it is badly maintained. Above the entrance there is standing interesting group of reliefs - two hammers across backed by two dwarves from both sides. Part of Anninmuiza park exists as well.
Images
---
References
Kaupuža D. Rīgas muižiņas. Latvijas architektūra, Rīga, 2005, p.95.
Latvijas piļu un muižu asociācijas mājaslapa, visited on 19th June 2009.
Plan von Riga, 15 November 1917
Rīgas ielas, enciklopēdija, 3.sējums, Rīga, 2009.g., p.260.