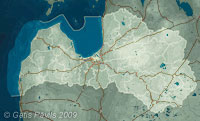 Coordinates:

57°00'16,02'' N 24°15'49,46'' E Google Maps
(localisation not exact, possible mistake up to 200 metres)
| | |
| --- | --- |
| No: | 48 (list of all monuments) |
| Category: | Medieval castles, Palaces and manor houses |
| Address: | Riga, Bukulti, in the area of Jaunciema gatve 8, at the left bank of Jugla channel |
| Versions of name: | Adazi castle of order, Adazi medieval castle, Bukulti medieval castle, Neuermühlen, Novum Molendinum, Nien-Mohlen, Niegenmollen, Nymolen and others |
| Year of construction: | End of 13th c., end of 15th c. |
| Condition: | No parts above the soil preserved |
| Value: | Architecture, archaeology |
| Conservation status: | Not specially protected |
At the end of 13th century on the important road from Riga to Vidzeme, at "natural gates" between Kisezers Lake and Jugla Lake there was constructed strong fortress - Adazi castle.
History
Exact time for construction of Adazi castle is not known - but most likely it was constructed at the end of 13th century. Castle has been built by Livonian order and it belonged to Salaspils vogtei and it was built in times when stife between Livonian Order and Riga city and Archbishopric started.
Castle is located on the important road between Riga and Vidzeme, in a place where this road crossed a stream between Baltezers Lake and Kisezers Lake. This new fortification initially was named - New Mill (Novum Molendinum) - most likely first here was built fortified mill - but it is also possible that both the castle and mill were under one roof.
Document from 1299 informs that Riga Archbishop Johan III was imprisoned here. Chronicle of Balthasar Russow tells that the castle was attacked by Lithuanians in 1298 and 1345. At the end of 13th - beginning of 14th century the castle was extended and fortified. n 1485 vogt was residing in the castle, in 15th century master of the Order stayed here often and prepared numerous documents. Landtag was held here in 29th September 1587. Next to the castle there was small village with several taverns at the road. In 29th September 1656 the castle was destroyed by Russian troops.
In 1706 the ruins of the castle were partly detonated and used for construction of Daugavgriva fortress as well as for construction of nearby Bukulti manor. Only one especially sturdy tower was left standing - it has been shown also in the drawing from J.C.Britze in 1798 - he mentioned that the castle was located net to stream named Berzupe.
Ancient Bukulti mill also was built at the end of 13th century and continued to operate up to the 1894 - ruins of this building were removed only in Soviet times. In Soviet times here were located troops of Soviet occupation army. Remnants of the castle tower next to mill were detonated in 1968. Up to the middle of 20th century the location of the castle was identifiable by the building of mill and old roads.
Description
There is not known exact planning of Adazi castle - general picture can be obtained from the plans of 17th century. this in the chronicle of J.Helms the castle is shown as quandrangular building with four towers on corners. In the Stockholm War archive there are plans which show the castle on island, enclosed by stream and Jugla Lake - castle was on the hill with steep sides. Level of the water around the castle was regulated by mill.
Initially up to the 14th century there was built quandrangular castle with four aisles surrounding inner yard. Length of the outer sides was approimately 40 - 43 metres. Main entrance gate was in the facade which was directed to northwest. In the northern corner there was a tower - most likely quandrangular. In the 17th century there still was standing the inner side of this tower. According to chronicles this castle had also a forepart.
At the end of 15th century, ca. 1500 there were built two round towers at eastern and western corners. Diametre of these towers was cc. 12 - 14 metres and there were the last remaining parts of castle which were removed only 20th century.
Images
---
References
Latvijas piļu un muižu asociācijas mājaslapa, visited on 13th June 2009.
Broce J.K. Zīmējumi un apraksti, 2.sējums, Rīga, 1996, pp. 137., 461.
Šterns I. Viduslaiku Rīga ārpus Rīgas, Senā Rīga. Pētījumi pilsētas arheoloģijā un vēsturē, Rīga, Latvijas Vēstures institūts, 1998, p.367
Enciklopēdija Rīgas ielas, 1.sējums, Rīga, 2001, p.50.
Caune A., Ose I. Latvijas 12.gadsimta beigu - 17.gadsimta vācu piļu leksikons. Rīga, Latvijas vēstures institūta apgāds, 2004, p.43.
Rīgas ielas, 1.sējums. Rīga, 2001, p.50.