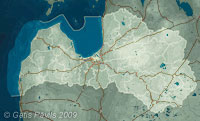 | | |
| --- | --- |
| Coordinates: | 57°00'18,14'' N 24°15'45,81'' E Google Maps |
More information:
Ruins of the war damaged Adazi castle were dismantled in 1706 and part of this material was used for construction of the nearby Bukulti manor - this fact indirectly shows the time of construction. The building has not been preserve up to this day but there are several household builings with fachwerk walls nearby.
In the drawing from J.C.Brotze (1798) theee is seen tiled roof of this building behind a small hill.
---
References
Jakovičs A. Rīgas ekotūrisma atlants, visited on 13th June 2009
Broce J.K. Zīmējumi un apraksti, 2.sējums, Rīga, 1996, p.137.