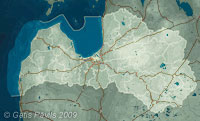 | | |
| --- | --- |
| Coordinates: | 56°54'44,67'' N 24°08'15,74'' E Google Maps |
| | |
| --- | --- |
| No: | 39 (list of all monuments) |
| Category: | Palaces and manor houses |
| Address: | Riga, Bisumuiza, Bauskas Street 147a |
| Versions of name: | the new palace of Bisu manor, Schilder manor, Hilsen manor, Bienenhof, Hilsenhof, Schilderhof, Schillerhof |
| Year of construction: | 1820ies |
| Architectural style: | Neo-Classicism |
| Condition: | Rather good |
| Value: | Architecture |
| Conservation status: | Architecture monument of state importance No. 6667, kopā ar parku |
More information:
One of the most outstanding suburban palaces of Riga is Bisumuiza palace. It is built in 1820ies in Neo-Classicism style. Especially valuable is the nearby beautiful landscape park shaped in harmony with the palace.
History
18th century
In the middle of 18th century among sandy hills near Katlakalns mill (built already at the first half of 16th century) there was established small manor, first manor house and subsidiary buildings were built in 1773.
Manor was named after its owners - Schilder manor, Hilsen manor, and lately - Bisumuiza (Bee manor), but initially the area of presentday Bisumuiza was part of Katlakalns and belonged to Mazjumprava manor.
First owner of Bisumuiza was widow of Michael Schilder - Anna Karatina Schilder, born von Ramm. She purchased the manor in 25th May 1773 and managed it up to her death. Then, in 1784 it was inherited by her son Heinrich Schilder, but after his death - his son Michael Schilder. In 1786 (1792?) the manor was urchased in open bid - it was bought per 3006 state thalers by Friedrich Hulsen, merchant of Riga Great Guild. Then in the centre of manor there were 2 manor-houses, 3 stables and cattle-shed, 3 sheds and cart-house.
Outstanding German composer Johann Gotffried Müthel (1728 - 1788) spent the wane of his life in Bisumuiza. He was the last alumnus of J.S.Bach and last man at the deathbed of Bach, virtuoso pianist and organist. He arrived at his brother in Bisumuiza somewhere around 1753 - 1755. and here he created and published manyof his compositions. In 1767 - 1788 he was organist at St.Peter's church. Müthel was the first to use term "fortepiano", thus givin a name to the instrument which was quickly gaining popularity. Major part of his works were published only after his death.
19th century
Ca. 1810 the rich family of Brandenburgs became owners of Bisumuiza. First owner - Jacob Johann Brandenburg - is born in Jelgava in 4th April 1778. He moved over to Riga in 1794, married to Elisabeth von Reußner in 1808 and established his trading enterprise. In 1811 Brandenburg got licence to build a sugar plant in Bisumuiza, during his time there were built new manor-house and other buildings as well. Currently visible manor house has been built in 1820ies in Neo-Classicism style.
Jacob Johann Brandenburg died in 8th September 1834 and Bisumuiza was inherited by Jacob Brandenburg the youngest (1812-1878). The son of the rich merchant married to Malvine Elizabeth Pychlau (1819-1889). Her family - owners of Strazdumuiza cotton and wool factory - belonged to the richest ones in Riga.
In times of Jacob Brandenburg the youngest in the middle of 19th century the area of manor was extended. Nearby, on sandy hill there was arranged new building plot - Jacob's mill. Here Brandenburg built new apartment building and subsidiary buildings, purchased nearby mill with land plot and rebuilt the old mill into oil factory. Later there was built a factory of ribbons near mill. All these properties together were named - Bisumuiza but toponym "Katlakalns" was attributed to smaller area instead.
Jacob Brandenburg the youngest died in 27th December 1878. His son Paul August Brandenburg inherited just a part of father's properties - but this was the part with Bisumuiza manor house and its subsidiary buildings. Paul Brandenburg married Jessie Nipp in 1879, but already in 1885 he died and property was sold.
20th century
At the beginning of 20th century sākumā owners of manor house were Hebenstreit and Grass, later it was inherited by relatives of Hebenstreit - formally the manor was their property until the end of 1920ies. But during the First World War owners abandoned manor and it stood empty for a while.
At the beginning of 20th century here was built match factory "Vulkāns". As the factories in Bisumuiza developed further, there increased number of inhabitants and social life became more intense.
In 1920ies the manor was managed by housing co-operative "Mans nams". They did not manage to return loans in time and at the end of 1930ies the manor was sold in auction. In 1928 the palce was included into the list of protected monuments.
During 1950ies manor was managed by glass factory "Rīgas stikls" - here were administrative premises of the factory, storage capacities - in nearby buildings.
Description
Although curently (2008) the building seems to be without use, the condition of the building is rather good. It resembles typical rural palace which miraculously has been preserved in suburbs of Riga.
The building has been shaped in Neo-Classicism forms. It is one-floor building with mezzanine and subsidiary rooms in the high base floor. Impressive accent is the oversized portico in both sizes of the building - with four pillars of the Ionic order. Building has got also the oval hall characteristic for Neo-Classicism buildings - it has got walls with paintings and ornate interior.
Next to the palace there has been preserved also house of gardener, stables and - large landscape park with long causeway.
Images
---
---
References
Koka Rīga, Rīga, Neputns, 2001, pp. 92.,163.
Kaupuža D. Rīgas muižiņas. Latvijas architektūra, Rīga, 2005, p.95.
Pētersone P. Latvijas Valsts vēstures arhīva dokumentu izstāde "Katlakalns un Bišumuiža". Latvijas Arhīvi - Arhīvu dzīve, 2002'1.
Latvijas piļu un muižu asociācijas mājaslapa, visited on 13th June 2009
Broce J.K. Zīmējumi un apraksti, 2.sējums, Rīga, Zinātne, 1996, pp.33., 254.
Aryeh O. Bach Kantatas Website
Enciklopēdija Rīgas ielas, 2.sējums, Rīga, 2008, p.48.
Krastiņš J., Strautmanis I. Lielais Rīgas arhitektūras ceļvedis. Rīga, Puse. p.413.