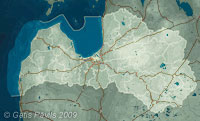 | | |
| --- | --- |
| Coordinates: | 56°59'41,96'' N 24°15'54,86'' E Google Maps |
| | |
| --- | --- |
| No: | 33 (list of all monuments) |
| Category: | Palaces and manor houses |
| Address: | Riga, Bergi, Brivibas gatve 440, administrative building of Latvian Ethnographic Open Air Museum |
| Versions of name: | Balozi manor, Balozmuiza, Beneventura |
| Year of construction: | Circa 1850. |
| Architectural style: | Neo-Classicism |
| Condition: | Rather good |
| Value: | Architecture |
| Conservation status: | Whole Open Air Museum together with Bonaventura manor is a monument of state importance No. 6651 |
More information:
The history of this manor is much longer than the history if the current manor house. This manor started to develop in 16th century. In the centre of the manor there still exists a complex of old buildings and remnants of beautiful park.
History
As far as it is known - Bonaventura manor has been first mentioned in written sources in 1582 - it became a property of widow of Nicholays Moller back then. Manor got its current name from the son of this widow - Bonaventura Moller - he inherited this manor in 1625. In 1636 the manor belonged to Egidius Litken, then - to Behrent Litken. In 1710 Litkens handed over the manor to captain Laudon. In 1780 the owner of the manor was Janis Balodis (Johann Ballod). His family gave name to larger surrounding area. Later it belongs to Franz Gustav von Loewis, next heir sells it to Adolph von Wulf per 10 500 roubles.
At the beginnng of 20th century manor owned several factories, including distillery and liquor factory of Bertels. This factory was located close to present day entrance in Open-Air Museum, north from it (2.).
Manor was expropriated during the land reform from 1919 and it became a property of State Bank. In 1934 there was established a State Seed-plot. After the Second World War premises were used by Forestry faculty of Agricultural University, Bergi Russian schol and - up to this day - by management of Open-Air Museum.
Description
Wooden building from 19th century. Pillars dorn the lake facade. In earlier times here was located an interesting complex of Neo-Classicism buildings consisting of 6 buildings arounmd the central square. Unfotunately the oldest among them - The old Balozi manor - was relocated in 1936, to the exposition of nearby Open-Air Museum and used for storng the collections of museum. Thus there was disarranged a complex of manor centre without real sense behind it - this building could serve to the same purposes in its original site.
Still - in general the manor complex has been preserved comparatively well.
Images

Complex of Bonaventura manor, engraving from 19th century
---
---
References
Koka Rīga, Rīga, Neputns, 2001, p.92.
Jakovičs A. Rīgas ekotūrisma atlants, visited on 13th June 2009
Kaupuža D. Rīgas muižiņas. Latvijas architektūra, Rīga, 2005, p.95.
Latvijas piļu un muižu asociācijas mājaslapa, visited on 12 June 2009