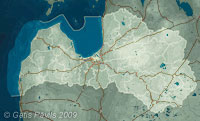 | | |
| --- | --- |
| Coordinates: | 56°59'43,30'' N 24°16'33,53'' E Google Maps |
| | |
| --- | --- |
| No: | 32 (list of all monuments) |
| Category: | Palaces and manor houses |
| Address: | Riga, Bergi, northern part of Latvian Open Air Museum, north from Usma church |
| Versions of name: | The Old Bonaventura manor |
| Year of construction: | 17th century |
| Condition: | Rather good |
| Value: | Architecture |
| Conservation status: | Whole Open Air Museum is architecture monument of state importance No. 6651 |
More information:
It is possible that the Old Balozi manor is the oldest wooden building in Riga - most likely it has been built in 17th century. Relocated to the area of Open Air Museum in 1936 and is used for storage of collections. In the first floor of the building there was arranged an exposition - "dwelling of Latvian intellectuals in 19th century".
Unfortunately from the standpoint of present day the idea of this relocation can not be considered to be successful. The old centre of Bonaventura manor - initial location of this building - is used for the needs of museum as well and is located just 600 metres away. The historical centre of manor has been disarranged and there has been little practical sense in it.
In spite of the above mentioned the simple manor house with its tiled roof looks wonderful in its present setting.
See the description of Old Balozi manor history at the description of Bonaventura manor.
Images
---
References
Koka Rīga, Rīga, Neputns, 2001, p.92.
Jakovičs A. Rīgas ekotūrisma atlants, vsited on 13th June 2009
Informative sign in Latvian Open Air Museum.
Enciklopēdija Rīgas ielas, 2.volume, Rīga, 2008, p.213.