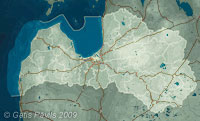 | | |
| --- | --- |
| No: | 6 (full list of landmarks) |
| Category: | Medieval castles, Palaces and manor houses |
| Address: | Tukums district), Jaunpils region, Jaunpils municipality, centre of Jaunpils, south-eastern bank of Jaunpils mill pond, some 100 metres west from the Lutheran church |
| Year of construction: | Most likely - second half of 14th century |
| Architectural style: | Some details in Mannerism style (f.e. weather wanes from rebuilding of 1646) |
| Condition: | Good |
| Values: | Architecture, archaeology |
| Conservation status: | Archaeology monument of state importance No.2294, architecture monument of state importance No.6810. |
Livonian order most likely built Jaunpils castle in the other half of 14th century to defend southern borders. Castle has been rebuilt in medieval times, in 17th century and at most in 20th century. In spite of this numerous medieval details and outer looks have been preserved up to this day.
40,5x29,6 metres large castle consists of four blocks enclosing an inner yard. In the southern corner there stands rounded tower built in 15th century.
Chronology
Second half of 14th century (beginning of 15th century?) - Livonian order builds a castle in Jaunpils for defense of the southern border
18th February 1576 - komtur of Dobele Ties von der Recke takes over the castle
1646 - rebuilding, the castle turns into residence of landlords
6th january 1906 - castle is burned down by revolutionaries
1907 - castle renewed, new interiors, architect W.Bockslaff
1960ies - modernisation of interiors, partly rebuild inner rooms