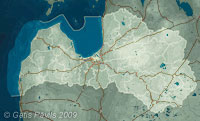 Coordinates:

56°55'15,33'' N 24°06'06,92'' E Google Maps
(localisation not exact, possible mistake up to 300 metres)
More information:
Friedrich manor was located on Biekensala island.
Although nearby there is located Belvija manor, this most likely is not the same manor. Belvija manor is located on the upper rim of Daugava bank while this manor has been marked on biekensala next to distributary of Daugava - on flatland.
This manor had status of the so called "chivalry manor" maintained up to the early 20th century.
Images
---
References
Kaupuža D. Rīgas muižiņas. Latvijas architektūra, Rīga, 2005, p.95.
Broce J.K. Zīmējumi un apraksti, 2.sējums. Rīga, Zinātne, 1996, p.207.
Ozoliņa D. Kā Rīgas "bruņinieku" muižiņas nonāca pilsētas pārvaldes pakļautībā (19./20.gs. mija), Senā Rīga. Pētījumi pilsētas arheoloģijā un vēsturē, Rīga, Latvijas Vēstures institūta apgāds, 2003, p.332.