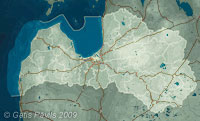 | | |
| --- | --- |
| Coordinates: | 56°55'08,63'' N 24°06'07,82'' E Google Maps |
| | |
| --- | --- |
| No: | 177 (list of all monuments) |
| Category: | Palaces and manor houses |
| Address: | Riga, Ziepniekkalns, Bauskas Street 48 |
| Versions of name: | Bellevue, Volkovica muiza, Pavlovica muiza |
| Year of construction: | 3rd quarter of 18th century |
| Architectural style: | Barocco |
| Condition: | Rather good |
| Value: | Architecture |
| Conservation status: | Architecture monument of local importance No 8073 |
More information:
Belvija is the initial name of this manor, in french it means - "nice outlook".
In 1930ies manor house belonged to family of Burags.
Long stretched manor house is built of wood in Barocco style. The vast balks were uninhabitable. Later there was built annex at the end and veranda in "Swiss" style - now both have perished.
Images
---
References
Koka Rīga, Rīga, Neputns, 2001, pp.90.,93.,192.,194.
Kaupuža D. Rīgas muižiņas. Latvijas architektūra, Rīga, 2005, p.95.
Enciklopēdija Rīgas ielas, 2.sējums, Rīga, 2008, p.45.
Situations-Plan der Riga'schen Vorstadte, Riga den 13 Marz, 1879, Steinbach