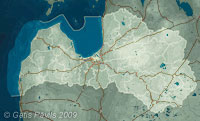 Coordinates:

57°03'17,28'' N 24°05'33,80'' E Google Maps
(localisation not exact, possible mistake up to 40 metres)
| | |
| --- | --- |
| No: | 159 (list of all monuments) |
| Category: | Medieval castles |
| Address: | Riga, Vecdaugava, Airu Street 79a |
| Versions of name: | Dünamünde, Monasterio Dunamundensi, Dynemunde |
| Year of construction: | circa 1205, after 1305 |
| Condition: | Does not exist |
| Value: | Architecture, archaeology |
| Conservation status: | Archaeological monument of state importance No. 2075 |
More information:
Daugavgriva cloister of St Nicholaus was established by Cistercian monks under leadership of Riga Archbishop Albert. In written sources this cloister has been first mentioned in 1205.
History
Fortified stone cloister building was located next to the Daugava bed of those times some 2,5 kilometres from its mouth. Nowadays Daugava has got another channel and location of cloister is next to Vecdaugava - silent distributary.
13th century
At the beginning of 13th century Riga Bishop Albert let to built a support base for crusaders - cloister of Cistercians with a name of Daugavgriva (Mouth of Daugava) and mountain of St.Nicholaus. Since the beginning this cloister served as military fortification protecting the sea gate of Riga and covering the city from the attacks coming from the sea. Chronicle of Henrikus mentions the construction of this cloister among the events of years 1202, 1205, 1208 - but it is possible that cloister was completed somewhat later. Convent of monks arrived from Germany. First abbot of Daugavgriva - Teodorich - in 1211 was promoted as bishop of Estonia and in his position came Bernard von Lippe - later bishop of Semigallia.
Cloister soon obtained wast properties along both banks of Daugava and monks carried out different economical activities, including construction of mill in Milgravis stream.
Soon cloister had to perform its military role. In 1215 it was attacked by Oeselians from Saaremaa - they tried to block the mouth of the river with stone laden boats. In the fight the united forces of Rigans and crusaders gained a victory.
In August 1228 cloister was captured, burned down, and monks were killed by Curonians and Semigallians. Soon after it was renewed.
In 1263 Riga city concluded an agreement with abbot Vilhelm of Daugavgriva cloister - according to it cloister was obliged to sell its land properties only to Riga city. But already in 1297 mouth of Daugava was the reason of conflict between Riga and Livonian Order - as a result cloister was demolished again. Monks of Daugavgriva in meantime sided with Livonian Order and this let the Order to win.
14th century
In 1305 cloister and surrounding properties in secret were obtained by Livonian Order per 4000 Koln marks (more than ton of silver) from abbot Libert. Since this moment Livonian Order started to dictate rules to Riga city. This deal caused great stir in Riga, in diplomatic fight there was involved pope Clement V who menaced to anathemize Livonian Order. But in spite of this order continued to fortify Daugavgriva cloister - at this moment it was rebuild into castle.
In 1329 Rigans for a short while captured Daugavgriva castle. In 1335 with a decision of Valmiera provincial assembly Riga Bishop gave up Daugavgriva castle in favour of Livonian Order and got 20 000 marks in refund.
15th century
In time period from 1305 to 1485 in Daugavgriva castle there were governing 22 Komturs. In 1485, after a siege lasting for four weeks the castle was taken by Rigans and demolished. There was left only one tower - it served as a reference-point for the ships in the sea. Livonian Order regained the castle and under the leadership of master Wolter von Plettenberg the castle was rebuilt.
16th century
In time period from 1532 to 1560 there were governing four Komturs in Daugavgriva castle.
After the fall of Livonian Order in 1562 the castle came to be property of Poland. In 1582 the king of Poland Stefan Batory visited the castle and ordered to rebuild and reinforce the earthen ramparts - there were built small ramparts already in 16th century. These enlarged ramparts is the only thing remaining of the Daugavgriva castle nowadays.
At the end of 16th century Daugava tore out a new channel - current one. Thus another fortification at another bank of Daugava became a lot more important - there was developed the enormous Daugavgriva fortress.
17th century
During the wars between Sweden and Poland Daugavgriva castle was taken several times. Visitation from 1624 stated that premises of castle have been demolished and looted. There were listed 49 cannons on the ramparts of castle.
In 1653 in the map issued by Swedish Military council there is marked that fortress is destroyed and castle - in ruins. Stones from the walls of castle were used for the construction of the new Daugavgriva fortress at the other bank of Daugava.
18th century
In 1760 in the documents of Milgravis manor there is mentioned that area of the former fortress is cultivated by three farmers.
In 1797 J.C.Brotze has depicted the old Daugavgriva church, in the background there is seen the earthen rampart of the old fortress. There is mentioned that rampart is quandrangular, bare and it is sewn by the inhabitants of nearby Stameri farmstead, they make very good harvests.
19th-21th centuries
In the area of former fortress in 19th century there was built Skanstnieki farmstead, still existing.
In 1901 there took place archaeological excavations.
Description
Castle once was located at Daugava 2,5 kilometres from the sea, on small elevation, which now is some 50 metres from the water.
Location of the castle is square, circa 150 x 150 metres large, from the outside it is encircled with some 25 metres wide ditch. Square rises for a few metres above the surrounding flat. Along the northern rim and partly along the eastern rim there goes up to 8 metres high earthen rampart - it is 8 metres wide at summit. Most likely this rampart earlier encircled the castle from all sides. It has been heaped up at the end of 16th century - 17th century.
Outside the ditch and rampart there are seen traces of three old bastions.
There are no remnants of the medieval castle above the soil. In 1901 in the excavations of K.Löwis of Menar there were made two trenches and it was found that the castle was approximately 53 x 39 metres large. The oldest part of the castle could be represented by the southwestern quandrangular tower and the protective wall around the castle. Later next to the tower, to the east from it there was added chapel of cloister. Later there were built aisles along the western and northern wall and annexes at the eastern wall.
In the times of Livonian Order there were built rounded towers in northwestern and northeastern corners. In 16th century - in the times of Plettenberg - most likely was built a forepart of the castle with three towers - it was located outside the ditch. Across the ditch there was wooden drawbridge.
Nowadays entrance in the area of castle goes along the northeastern corner. Still there is partly visible the old road which was leading from northeastern tower around the forepart of the castle up to the southeastern corner.
Images
---
References
Latvijas piļu un muižu asociācijas mājaslapa, visited on 22nd June 2009.
Poziņš D. Daugavgrīvas cietoksnis, Dabas un vēstures kalendārs' 99, 1998.
Caune A., Ose I. Latvijas 12.gadsimta beigu - 17.gadsimta vācu piļu leksikons. Rīga, Latvijas vēstures institūta apgāds, 2004, p.131.