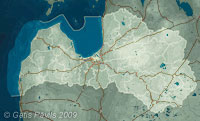 | | |
| --- | --- |
| Coordinates: | 56°55'40,22'' N 24°05'07,76'' E Google Maps |
| | |
| --- | --- |
| No: | 157 (list of all monuments) |
| Category: | Pastorates |
| Address: | Riga, Tornakalns, Indrika Sreet 8 |
| Versions of name: | Helmersen house |
| Condition: | Good |
| Year of construction: | Before 1812., relocated in 1890 |
| Architectural style: | Neo-Classicism |
| Conservation status: | Not protected |
More information:
Helmersen house is built of wood at the beginning of 19th century, in Neo-Classicism style. History if this building is made unusual by the fact that it has been relocted from its previous location in Skolas Street 1 to its present location.
The house was dismantled and construction details - numbered. Afterwards it was shipped to its present location. The house the was granted to Lutheran congregation by the wife of banker Schwartz. At the end of 19th century here lived pastor P.Pauksens, author of several books of theological content. He served both German and Latvian congregations in nearby Tornakalns Lutheran church.
At the beginning of 20th century pastorate had high fence of planks - there was beautiful garden behind it.
Images
---
References
Koka Rīga, Rīga, Neputns, 2001, 207. lpp.
Kaupuža D. Rīgas muižiņas. Latvijas architektūra, Rīga, 2005, p.95.
Zilgalvis J. Mācītājmuižas Latvijā. Rīga, 2002.
Rīgas ielas, enciklopēdija, 3.sējums, Rīga, 2009.g., p.188.