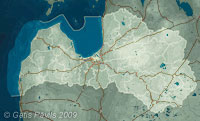 Coordinates:

56°59'21,24'' N 24°07'42,84'' E Google Maps
(localisation not exact, possible mistake up to 300 metres)
More information:
Holst manor was one of summer residences for affluent merchants of Riga, next to it there was Cimpuli farmstead.
Owner of manor was merchant and elder of Blackheaded brotherhood Johann Holst, bachelor. During his life (1744 -1814) through successful transit trade he increased his inherited capital more than 26 times. As he had no direct descendants, he left his properties and 23 000 thalers to his distant relatives but 99 000 thalers devised for charity, especially for education of orphaned girls of higher society. In wintertime he resided in his house in the centre of city - in Liela Smilsu Street but in summer he was at his manor house. Next to manor hosue there was well tended garden, gardener took care of it. Holst had five more servants. For his drives from manor to city Holst used very ornate carriages or different kinds of boats - popular means of transportation for inhabitants of Sarkandaugava. after the deth of Holst manor was purchased by manufacturer J.T.Pyhlau and in 1824 in its area there was arranged cotton processing manufacture.
Manor has been marked in work of J.C.brotze (2.), in the map from 1805, it can be localised at present day Duntes Street. Manor house was located next to rather wide (back then) Sarkandaugava, along the water there was high hedge, bank was fastened. Sarkandaugava then fed from springs. Manor house had also a garden house for guests.
At the other half of 19th century manor belonged to Latvian, fisherman Indrikis Uders. Next to manor house, at Udri ditch up to the middle of 19th century there still was Cimpuli farmstead.
Inly in 1970ies Dambja Street along the manor house (not clear, whther the house itself existed back then) was extended across the filled up Sarkandaugava up to Duntes Street.
Images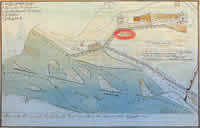 Holst manor in map of Sarkandaugava, older map redrawn by J.C.Brotze. letter c - storehouse of commisariat in Riga, b - second garden of Emperor. 1805
---
References
Latvijas piļu un muižu asociācijas mājaslapa, visited on 21st June 2009.
Broce J.K. Zīmējumi un apraksti, 2.sējums, Rīga, Zinātne, 1996, pp.147.,175.,190.
Enciklopēdija Rīgas ielas, 2.sējums, Rīga, 2008, p.226.