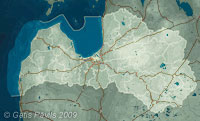 Coordinates:

56°59'49,35'' N 24°07'07,54'' E Google Maps
(localisation not exact, possible mistake up to 300 metres)
More information:
This Sarkandaugava manor is linked to Dutch entrepeneur Jacob de Bruyn, not preserved.
Family of Bruyn came to Riga from Netherlands at the end of 17th century. Bruyn developed his trade and sugar manufacture enterprise together with his son-in-law Heinrich Strauch - for a while mayor of Riga. Strauch was considered to be a man with dangerous views of freethinker. In 1794 Strauch died and enterprise was closed. De Bruyn started a brewery.
Bruyns most likely lost their manor in Sarkandaugava at the end of 18th century. In early 19th century it belonged to brethren Chlebnikow, they were producing sugar in a building next to Military hospital.
J.C.Brotze (1.) has drawn the manor in 1786, showing one-floor wooden building with Barocco style roof. Next to it there is Raawe manor.
Images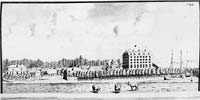 Raawe manor - in middle part of drawing, high building at right side - sugar manufacture, building in left side - Broin manor, J.C.Brotze. 1786
---
References
Broce J.K. Zīmējumi un apraksti, 2.sējums, Rīga, Zinātne, 1996, p.187.