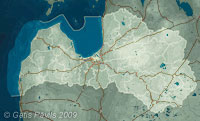 Coordinates:

56°58'18,44'' N 24°06'04,89'' E Google Maps
(localisation not exact, possible mistake up to 150 metres)
More information:
First time n written documents Pilumuiza manor has been mentioned in 1683 - the owner of this manor was the elder of Great Guild Martin Pihl. Manor got its name from his family, but in Latvian it has been transformed to Pilu muiza - Duck manor. Initially manor was located on the land of St.George hospital.
In the middle of 18th century it was obtained by the merchant of silk fabrics, later burgomaster J.K.Behrendt, his heir sold it to merchant K.Timm. Timm used manor himself but the garden was rented per 220 thalers in year. In 1809 after the death of Timm this garden per 3200 thalers was purchased by the merchant of the third Guild of Riga E.N.Pfab - in short time he became the most affluent householder in Riga. Pfab crossed the Pilumuiza Street (present day Lugazi Street) with ditch and local inhabitants complained about this - only after some effort a special commission managed to regain this street for public use.
Manor house was one-floor wooden building with tiled roof. In the drawing of J.K.Brotze from 1796 in the front of manor house there was a yard bounded by ditches and planted with trees. Crowns of trees were clipped. At the entrance there were places benches with Barocco forms.
Manor house was located at the present day Lugazi Street (up to 1930ies - Pilumuiza Street) between Ganibu dam and Katrina dam.
Images
---
References
Kaupuža D. Rīgas muižiņas. Latvijas architektūra, Rīga, 2005, p.95.
Jakovičs A. Rīgas ekotūrisma atlants, visited on 20th June 2009
Latvijas piļu un muižu asociācijas mājaslapa, visited on 20th June 2009
Broce J.K. Zīmējumi un apraksti, 2.sējums, Rīga, Zinātne, 1996, pp.37.,144.
Plan der Gouvernements Stadt Riga nebst Umgebung, R.Stegman, 1876