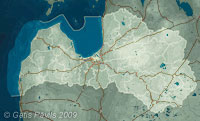 | | |
| --- | --- |
| Coordinates: | Not localised |
| | |
| --- | --- |
| No: | 115 (list of all monuments) |
| Category: | Palaces and manor houses |
| Address: | Riga, Mezciems, Bikernieki, "8,5 versts from Riga" |
| Versions of name: | Hackmanns Höfchen |
| Year of construction: | Late 18th c. |
| Architectural style: | No specific features of style |
| Condition: | Does not exist |
| Value: | Architecture |
More information:
The small Hackmann manor formed on the land of Mazjumprava manor in 18th century next to the historical Kakarags (Rumpe) tavern. Not preserved.
In 1768 this tavern together with the land belonging to it obtained innkeeper Rumpe. In 1770 innkeeper Hackmann (member of Riga Cash Board) obtained the tavern with a condition tha he will not sell more than two barrels of spirits per year and spirits will be purchased in distillery of Mazjumpravmuiza per 10 thalers in barrel. Tavern did not have a permit to purchase goods from farmers travelling to Riga. Construction of new buildings was allowed only with a permit of Riga Cash Board. 15 thalers of quitrent per year had to be paid to Mazjumpravmuiza manor.
Hackmann built a small manor house - summer house next to the tavern, and it was called Hackmann manor while the tavern nearby still was named Rumpe tavern.
In a drawing from J.C.Brotze from 1795 there is shown a one floor loghouse with tiled roof, small gable windows.
Images
---
References
Broce J.K. Zīmējumi un apraksti, 2.sējums, Rīga, Zinātne, 1996, p.126.