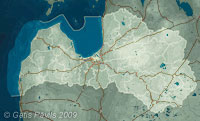 Coordinates:

56°55'23,24'' N 24°10'12,19'' E Google Maps
(localisation not exact, possible mistake up to 300 metres)
| | |
| --- | --- |
| No: | 104 (list of all monuments) |
| Category: | Viduslaiku pilis, Dzirnavas |
| Address: | Riga, Kengarags, between Mazjumprava manor and Kojusala, approximately near kengarags street - Southern magistral |
| Versions of name: | Pleiku mill, Molendinum fratris Bertoldi, broder Bertoldes molen, Bruder Bertholdes Mühle |
| Year of construction: | Beginning of 13th century, possibly - circa 1208. |
| Condition: | Does not exist |
| Value: | Architecture, archaeology |
More information:
In medieval times nearly any stone building could be used as fortification - and often such buildings were mills. Mill of Brother Berthold is built at the beginning of 13th century and, as it was next to important road, it was used as a fortification. Not preserved.
History
It is considered that this mill is named after the governor of Cesis castle Berthold (in this position in 1208-1217) and most likely have been constructed in his time - may be already in 1208. In 1226 the papal legate Wilhelm von Modena marked off the borders of Riga patrimonial and forbade to other governors except for the city to build here mills. In a case of the mill of Brother Berthold there was made an exception - they could continue to operate unde the supervision of owners - Order of Livonia.
Location of this mill is not exactly known - it was located on a small stream half a mile outside Riga. This stream was flowing out of Dreilini swamp and discharged in Daugava in the front of Viebert island and one more island. Mill was built on a hill near Daugava. In 1669 surveyor E.Tolk has marked a stream with mill, this mill is shown also in the Swedish map of Riga and vicinities.
Mill has been mentioned in relation to fights between Rigans and Livonian Order at the end of 13th century. At the very beginning of 1298 Rigans besieged the mill and tried to take it with war machines. At that time they did not succeed but a bit later - in spring they managed to destroy this mill. In connection with these events there is mentioned that this mill had four wheels and stone tower.
In 14th century as there was built Salaspils castle, mill of Brother Berthold lost its military importance.
Document issued by Riga city coucnil in 1345 shows that there is land governed by Livonian order between the mill of Brother Berthold and the border of Mazjumprava manor. In 1429 this land was leased out by Livonian order to Lambrecht from Ahlen. In 1447 it was leased out to the cistercian nunnery. Nuns had to pray for the brothers of order as they departed for war.
Mill of Brother Berthold remained under the governance of Livonian Order all medieval times, up to the beginning of 16th century these were used to grind grain. Next to the mill there was also pepper mill (Pepermole).
Mill existed here also in 16th and 17th century - then it was named after its owners. In 16th century the mill was adjusted for processing of copper, in 17th century it grinds cloth and felt.
In 1656 next to the mill for six weeks resided tsar Alexei Michailovich, after unsuccessful attack he retreated. Since this event this hill got a name - Hill of Moscovians.
Circa 1841 the land across the mill was obtained by Russian merchant Sidor Kuznetsov - he established a porcelain manufacture which later got great fame.
At the beginning of 20th century the exact location of the mill could not be localised exactly anymore.
City reached the surroundings of former mill at the second half of 20th century, landscape here changed thoroughly and thus the exact locality of the mill is not localised.
Description
Mill was located at the left bank of Dzirnupite stream, at the ancient road. It is known that the mill has a tower or such tower was next to it. At the end of 13th century mill had four wheels.
---
References
Šterns I. Viduslaiku Rīga ārpus Rīgas. Senā Rīga. Pētījumi pilsētas arheoloģijā un vēsturē. Rīga, Latvijas Vēstures institūta apgāds, 1998, p.369.
Caune A., Ose I. Latvijas 12.gadsimta beigu - 17.gadsimta vācu piļu leksikons. Rīga, Latvijas vēstures institūta apgāds, 2004, p.43.
Villeruša V. Gājums, Rīga, Kabata, 1994, p.29.