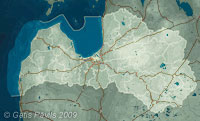 | | |
| --- | --- |
| No: | 2 (full list of monuments) |
| Category: | Medieval castles, Palaces and manor houses |
| Address: | (Cesis district), Cesis region, Cesis, Pils park, Pils Street 9 |
| Year of construction: | Before 1218 |
| Architectural style: | Romanic in chapel, Gothic |
| Condition: | Ruins, partly conserved |
| Values: | Architecture, archaeology |
| Conservation status: | Archaeology monument of state importance No.392, architecture monument of state importance No. 6203 (together with the new palace, ensemble of palace buildings and park). |
Cesis medieval castle is one of the most significant medieval castles in Latvia - the influential Livonian Order for several centuries had its centre here.
The castle is built next to the more ancient hillfort of Vends which also served as a fort of Livonian Brothers of Sword for a while. Until the end of medieval times here was built central part with four blocks and inner yard, there were also three foreparts of the castle. Whole complex had five large towers and several gate towers, intricate system of earthen ramparts, defensive walls and even 42 meters long bridge. Thickness of the walls of towers reached 4,7 metres.
Chronology
before 1218 - Livonian Brothers of Sword build a stone castle
1297 - administrative centre of Livonian order moves from Riga to Cesis and remains here for most of the time until the end of Livonian state
1577 - during the siege by Russians the defenders of the castle blow up the western part of the castle together with themselves, this part is abandoned since then
1703 - Russians destroy the castle and it is not inhabited anymore
1778 - in the area of eastern forepart of the castle there is constructed the New Palace of Cesis
1952 - started gradual restoration and conservation of the castle