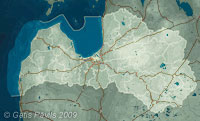 | | |
| --- | --- |
| Coordinates: | 56°59'12,65'' N 24°15'10,87'' E Google Maps |
| | |
| --- | --- |
| No: | 93 (list of all monuments) |
| Category: | Palaces and manor houses |
| Address: | Riga, Jugla, Pales Street 14 |
| Versions of name: | Strasdenhof, Strazdumuiza |
| Year of construction: | 1853. |
| Architectural style: | Neo-Classicism |
| Condition: | Rather bad |
| Value: | Architecture |
| Conservation status: | Architecture monument of local importance No 7931 |
More information:
Close to Jugla Lake there is located the wooden manorhouse built in Neo-Classicism style - villa of Pychlau family. See the history of the Strazdumuiza old manor - the oldest building in Strazdumuiza manor centre.
History
Building is located in the historical centre of Strazdumuiza manor.
Nicholaus Andreus Pychlau (1822 - 1887) - middle son of the textile manufacturer received a present from his parents - 6,4 ha large land plot. Here he built a villa in 1853 - it was the most beautiful in surroundings.
Pychlay family since 1880 systematically supported the society of blind and institute. Son-in-law to Pychlaus - Ernest Christoph Alexander Pander did the same - since the 1880ies he was acting in the board of this society and was managing it in 1909 - 1924. It was Pander who managed to achieve the most in the development of this society, there was established Riga Institute of Blind and Visually Impaired who at 1914 was economically successful institution.
In 1926 in the villa of Pychlay there was located the open shelter for children, at the end of 1930ies - children's home. In 1947./48. here was located children's home No.8, in 1948 it was closed and premises were alloted to the boarding school for visually imparied and blind children.
History of Strazdumuiza as the support intitution for the visually impaired continues up to this day. in the building there is located the library for blind.
Images
---
References
Koka Rīga, Rīga, Neputns, 2001, p.94.
Jakovičs A. Rīgas ekotūrisma atlants
Rīgas ielas, enciklopēdija, 3.sējums, Rīga, 2009.g., p.250.