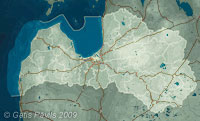 Coordinates:

56°58'36,06'' N 24°15'59,27'' E Google Maps
(localisation not exact, possible mistake up to 40 metres)
| | |
| --- | --- |
| No: | 88 (list of all monuments) |
| Category: | Palaces and manor houses |
| Address: | Riga, Jugla, Udelu Street 30, near Jugla Lake |
| Versions of name: | Gravenheide, Goronsky manor, Garanska muizina |
| Year of construction: | 18th century |
| Architectural style: | Barocco |
| Condition: | Does not exist |
| Value: | Architecture |
More information:
At its time Gravenheide manor at the bank of Jugla lake was ne of the most attractive and most beautiful manors in Riga. Unfortunately it has not been preserved.
Link to J.G.Herder
In Gravenheide manor there resided friend of E.Heidevogel - German publicist J.G.Herder. Here he poetized several poems including the "Ein Landlied auf Gravenheide" (Rural song to Gravenheide), as well as cantata in honour of consecration of Bikernieki church. Historian Arveds Svabe in his work about Gustav Bergmann assumes that exactly here Herder got impressions about syncretic nature of the folk art demonstrated by Latvian Janis festivity with its dances, choir singing and fires". Herder was excited about the "ancient wilder chants, living relicts of rhythm, dance in folk art", which have not been crippled by Western (German) cvilisation after its own likeness".
Such excitement about the people with little influence of civilisation at this time was more characteristic regarding the people in South America, Pacific - but not regarding Euopean people.
Description
Gravenheide manor in its character and style was true Barocco time manor. Drawing of J.C.Brotze shows the inner yard and here the building has got typical color gamma of Baocco - dominating colors are red and light grey. Manor house has got tiled French roof. Facade of residential building has got red color with light details, household building is white with red details. Fachwerk construction is marked with darker tone over the light background. House got small windows with two shutters and glasses in lead casing. Shutters of the entrance door were planked with planks placed in herringbone.
Another drawing of J.C.Brotze "View towards Gravenheide manor near Jugla Lake in 1796" shows wde view on manor centre. Residential building is rather small loghouse with tile roof. Next to the entrance door there are wooden benches with Barocco styled endings. Household building to the left has got tiled French roof. Main house of manor also is one floor building - loghouse. it is seen in another drawing - "View on Gravenheide manor in 1796".
Brotze has also redrawn a canvas of baron Voldemar von Budberg from 1780 - 1781 which shows also the owner of the manor - Heidevogel. Drawing is interesting because of the viewpoint - Liepkalns hill across small bay of Jugla lake. Drawing shows also a boat of fisherman with beer barrel and garlands in it. Old fishermen up to this day remember that Liepkalns hill is ancient site of Jani festivity. Brotze noted that all buildings of Gravenheide manor have been preserved in 1797 - only the hedge at the water is not trimmed anymore.
Another drawing from 1796 shows a nice well house.
Nowadays next to the site of manor house there stands the building of "Garanska" leather manufacture where was located also the malt house for brewery. Some oak trees of the former park still are there, some household buildings in Udelu Street 7 as well.
Images
---
References
Koka Rīga, Rīga, Neputns, 2001, pp.195.,218.,230.
Jakovičs A. Rīgas ekotūrisma atlants
Latvijas piļu un muižu asociācijas mājaslapa, visited on 20th June 2009.
Broce J.K. Zīmējumi un apraksti, 2.sējums, Rīga, Zinātne, 1996, 120-123., p.533.