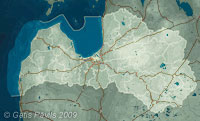 Coordinates:

56°57'24,64'' N 24°00'10,90'' E Google Maps
(Localisation not exact, possible mistake up to 400 metres)
| | |
| --- | --- |
| No: | 86 (list of all monuments) |
| Category: | Palaces and manor houses |
| Address: | Riga, Imanta, between Talavas gatve and Zilu street |
| Versions of name: | Solitude, Solitüde, Berzmuiza, Swanenborgshoff |
| Year of construction: | 18.gs. |
| Architectural style: | Rococo, Barocco |
| Arhitekts: | K.Haberland? |
| Condition: | Does not exist |
| Value: | Architecture |
More information:
Once, at the end of 18th century Zolitude manor was one of the most beautiful suburban palaces of Riga with beautiful park with regular planning around it. Not preserved.
History
The name of the manor - "solitude" (lonelyness) - has been borrowed from the French. Manor has given its name to the nearby Zolitude neighborhood.
In the 17th century manor was called Swanenborgshoff. In 18th century it belonged to Hermann Friedrich, rotmistr of Swedish army and counsellor to Russian army. He owned three manors but for most time he resided in Zolitude.
At the end of 18th century the palace was managed by the successful entrepeneur and counsellor to Russian court Otto Vietinghof gen. Scheel - he owned circa 30 manors. Vietinghofs are ancient family who came to the area of Latvia not later than in 14th century, conrad von Vietinghof was the master of Livonian order in 1401 - 1413.
It is told that wast properties of Vietinghof were managed mainly by his wife while Vietinghof was occupied mainly with arts and representation activities. In order to create possibly ornate palace he involved in these works brilliant architect K.Haberland and numerous great craftsmen and artists. In 1772 in spite of his great authority Vietinghof became a director if Riga theatre - such position at the end of 18th century was considered to be insignificant. In its essence such deed corresponds to the world outlook of Rococo time where joined refinement, intimacy and splendour. Typical example of Rococo was also Zolitude manor - at this time it also got a new name - instead of former Swanenburg it got its present name - "lonelyness".
In 1780 Otto von Vietinghof started to reside in Old Riga, in the Vietinghof House also designed by K.Haberland. He died in St.Petersburg at the end of 19th century.
In 1795 the palace was sold to Otto Heinrich von Igelström. In 1877 area of manor (its area then was approximately 500 ha) was subordinated to city, part of land was divided into building plots. At the beginnng of 20th century lands of manor had some 235 tenants, peat factory was operating in manor as well.
Buildings of Zolitude manor have not been preserved, there exists only one causeway from the manor park.
Description
J.C.Brotze has depicted the manor in 1785 - draing shows surprisingly ornate Rococo style palace with the traits of French manor architecture. Palace was sided with greenhouse adorned with marble sculptures.
Palace has a steep roof. Towards the palace there was leading twofold causeway with decorative element - vase - between both tracks. Manor was located in sandy soil - here was cultivated park with lawns, causeways, ponds. Park had both regular and free planning. In the garden there were located gaiety maisonettes.
---
References
Koka Rīga, Rīga, Neputns, 2001, pp.90.,92.,97.
Kaupuža D. Rīgas muižiņas. Latvijas architektūra, Rīga, 2005, p.95.
Latvijas piļu un muižu asociācijas mājaslapa, visited on 19th June 2009.
Broce J.K. Zīmējumi un apraksti, 2.sējums, Rīga, Zinātne, 1996, p.325.
Rīgas ielas, 1.sējums. Rīga, 2001, p.44.