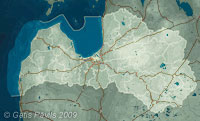 | | |
| --- | --- |
| Coordinates: | 56°57'49,11'' N 24°03'37,51'' E Google Maps |
| | |
| --- | --- |
| No: | 80 (list of all monuments) |
| Category: | Palaces and manor houses |
| Address: | Riga, Ilguciems, Bullu Street 16 |
| Versions of name: | Grave manor, Fridriha muiza, Fogela muiza, Reima muiza, Nordeckshof |
| Year of construction: | 1760ies |
| Architectural style: | Barocco, Neo-Classicism |
| Condition: | Good, authentic |
| Value: | Architecture |
| Conservation status: | Architecture monument of state importance No. 6609 |
More information:
One of the most outstanding wooden buildings from Barocco time in Riga is Nordeki manor house which is built shortly after 1760. Nowadays this building is undergoing thorough reconstruction.
History
Nordeki manor is mentioned first in 1576 - then, according to J.C.Brotze in Daugava landed three Swedish ships and pirates looted the area, burned down twenty farms including Nordeki.
At the second half of 17th century it belonged to the member of Riga city council Hermann Witte - king of Sweden Charles XII made him a nobleman in 1698 and he got a family von Nordeck - manor got its name from him (or may be he got this name from propety?). In 1710 H.Witte died from plague. Family of Nordeck owned the manor up to 1769, then it was pawned due to their debts. at this moment in the manor there were 8 buildings - two residential builings, shed with horse stable, barn, ice-housethreshing barn and two taverns.
In 1783 Nordeki manor became propety of merchant, elder of Blackheads Society Ludwig Grave - he purchased it from H. Von Grotte. In 1785 there was built a barn. In 1792 Grave pawned the manor to J.Vogel. In 1797 there were five buildings in the manor centre - this included horse drawn paper mill which operated up to 1808. After the war of 1812 the manor fell in decay. After the death of J.Vogel the manor became property of Johann Dubelt in 1852. At this moment in the manor centre there were 17 buildings including two taverns and five residential buildings.
In 1857 manor became property of Jacob Blumenbach. He established here gardening, tree nursery and garden here. In 1866 the manor was inherited by his daughter Helene Dorothea. She married to Julius Reim who owned gardening in the St.Petersburg suburb of Riga. Reims owned the manor up to 1940.
In 1899 there were built several glasshouses after the project of engineer E.von Trompowsky. In 1909 there was built a wooden water tower.
During the Soviet occupation there were apartments in the manor buildings. In 1968, as the Bullu Street was extended, there were left only two old buildings of manor centre and the boiler house from 1910. Other buildings were in very bad condition and thus were dismantled. In 1990ies inhabitants of the house were put out and for a while it was abandoned.
In 1997 Arturs Ozolins started to rent the manor from the city - he started thorough renovation of the building. Riga city council agreed in April 2009 to hand over the manor for privatisation to the enterprise of A.Ozolins "Nordeķu muiža". It is planned that Nordeki manor will serve as an monument available to public, here will take place also cultural events.
Construction history and description
The centre of Nodeki manor resembles rural manor. Up to these days there have been preserved two residential buildings - manor house and house of gardener. In both buildings there have been preserved interiors from the previous three centuries.
Construction history of the manor has been investigated by I.Dirveiks.
Interior from 18th century
Interior of the manor house from 18th century has been comparatively simple. In the household premises there is used simple, usually monochromatic lime or paste coloring on the wooden surface. some rooms were without any trim except for the painted door. Rooms had rather high mopboard - a 30 cm high plank.
In the central hall of manor house there was achieved somewhat more festive feel. Base part of walls has been covered with coarse linen with colored ornaments. Upper part of walls was covered with paper tapestry. Joint of linen and tapestry has been masked with profiled plank. In order to archieve the principles of classicism symmetry there has been painted non-existant door on the wall, with real doorframe.
Tapestry and linen has been painted mainly in yellow color in harmony with the unpained wooden ceiling. Most likely tapestry was made in Riga - imported one was very expensive.
Interior from 19th century
At the first quarter of 19th century there has been used a single principle for the trim of several rooms. Above the dark base part there is monochromatic wall - bluish-grey or ochre yellow. At the level of frieze there has been used ornament in Empire style. Ceiling planks have polichromatic coloring.
In the 80ies - 90ies of 19th century the interiors were modernised and lost ther peculiarity. There was used industrial design - similar to the one which was often used in stone buildings. Main hall got nice, Rococo style stucco ceiling and walls. A hall nearby got Neo-Rennaisance interior with the imitation of wooden cassete plafonds on ceiling. Walls were covered with dark brown tapestry which imitates fabric and was adorned with floral motives. Another room is adorned in Eastern style with stucco dracons and dark tapestry with cranes and silver plant sulhouettes. Ceiling here has got bright polychrome composition with the motives of flora, birds and East.
Construction details and planning
Inner set of entrance door is made in 1770ies-1780ies - it is made of planks and levelled with the wall. Outer door most likely is made in the beginning of 19th century and is much lighter - it served as a kind of shutter. This door has got Empire style adornment. At the second half of 19th century outer door got decorative applique work.
Windows have got small panes and the finish is closer to Rococo style. Nordeki manor is one of the few Barocco time buildings with the trace of entrance portal still visible. Facade towards the Bullu Street in 19th century got roof gable and entrance portic with double columns. At both ends of the building at the turn of 19th/20th centuries there were added low one-floor constructions.
Manor has got also a specific novelty for its time - long corridor through the longitudinal axis of the building.
Images
---
References
Koka Rīga, Rīga, Neputns, 2001, pp.92.,163.,170.,173-182.,220.,229.
Kaupuža D. Rīgas muižiņas. Latvijas architektūra, Rīga, 2005, p.95.
Latvijas piļu un muižu asociācijas mājaslapa, visited on 17th June 2009
Enciklopēdija Rīgas ielas, 2.sējums, Rīga, 2008, p.187.
Broce J.K. Zīmējumi un apraksti, 2.sējums. Rīga, Zinātne, 1996, p.463.