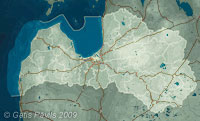 Coordinates:

56°58'21,86'' N 24°03'48,66'' E Google Maps
(localisation not exact, possible error up to 50 metres)
| | |
| --- | --- |
| No: | 78 (list of all monuments) |
| Category: | Palaces and manor houses |
| Address: | Riga, Ilguciems, at the end of Balta Street (to the east from manor there was built a street a street - at the fragment of this street there is a house on Balta Street 27), at the Spilve Street 5 |
| Versions of name: | Meller manor, Baltamuiza, Dahl manor, Weißenhof, Haltermanns Höfchen |
| Year of construction: | Third quarter of 18th century |
| Architectural style: | Barocco |
| Condition: | Does not exist |
| Value: | Architecture |
More information:
Balta muiza as a manor was established already in 17th century, but nowadays better known is the Barocco style manor house building from the second half of 18th century. Manor house has not been preserved.
History
Manor was established in 17th century, at the edge of Spilve meadows, on the land of Kremeri manor.
In 1767 the senior visitor of Riga customs Hermann Dahl purchased the manor from the widow of Riga mayor Hermann Witte von Nordeck. Later Dahl became a state councillor, member of St.Petersburg and Riga state property boards. Dahl came to Riga from Saaremaa island, Kuresaare and he had no connections in the circles of Riga Germans. As a state employee he tried to facilitate free competition in the economy of city and empress Katharina II used his knowledge in foreign trade. conservative circles of Riga merchants disliked him and burgomaster J.K.Schwartz once wrote that Dahl has born to be a curse for Riga city.
In the third quarter of 18th century Dahl built beautiful summer residence in Barocco style with ornate terraces in Italian style. This building has been shown in the drawings of J.C.Brotze in 1793. At the end of 18th century both the manor and the position of Dahl was inherited by the senior visitor of Riga customs, husband of the niee of Dahl - Hermann Friedrich Möller. In his time manor was named in his family.
At the turn od 18th.19th centuries there was built another one floor manor house building with simpler, more traditional design. This was a building with French roof and mezzanine. Manor house lost its character of ornate summer residence. In the middle of 19th century Balta muiza was rented by agronomist, Latvian Aleksandrs Reze - he used the surrounding fields in agriculture.
In 30th August 1860 in the Balta muiza building there was a meeting with the active members of national awakening Krisjanis Valdemars, Bernhards Dirikis and Juris Caunite in an attempt to establish a Society of Latvian Literature but there was no success due to pressure of Riga German community.
In the time period from the end of 19th century to 1920ies the manor was in property of the von Buxhoeveden family. At the end of 1920ies and beginning of 1930ies it belonged to H. and E.Univers.
In his memours the writer Anslavs Eglitis describes how his father rented the manor house in the summer of 1920 - at these times the nature around the manor house was pristine and diverse.
Up to 1930ies there was landscape park around the manor, here was also gravehill of Balta muiza barons - Ozolkalns (Oak hill).
The buildings in the manor centre were burned down by the owner E.Univers in 1944 at the moment when Soviet troops approached it.
Current Balta Street has been formed in the place of the main causeway in the manor park - initially it was named Baltasmuizas street but during the campaign against Germanisms already before the Second World War it was renamed into Balta Street.
Buildings in the manor centre have not been preserved, in some places the old causeway is standing.
Description
J.C.Brotze has shown the manor in the map redrawn from older map (1700) of surveyor E.Tolks - it has been marked as Weiseen oder Haltermanns Höfchen. In the drawing from 1793 J.C.Brotze has shown the building from the inner yard. we se ehere interesting Barocco style buildings with two floors. Building has got arched windows with small panes. In 1794 he has drawn the facade - it is visible that second floor has got balustrade.
In the fron of facade of the manor house from late 18th century there were shaped regular planting beds with flowers. In the front of main entrance door there started ok causeway which was leading towards Ilguciems and continued as Baltasmuizas Street. Inner facade of the building faced a small garden with regular planning which further away from the castle changed into natural looking, tended landscape park. This park was created on the slope of ancient dune and continued up to the summit.Labyrinth of winding footpaths was leading to the highest point of the park where the barrow with the graves of family members was located - it served as romantic accent.
In the manor park there was wooden obelisk built at the time of Möller and devoted to Dahl. It was adorned with sheet festoon of ivy. Four sides of this obelisk had silhouette of Dahl attached.
Images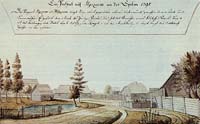 Here Balta muiza manor is in the centre, far away (letter d), at the right side of foreground - farm of Dahle in Ilguciems, drawing by J.C.Brotze. 1791.

Wooden obelisk in the park of Möller manor, drawing by J.C.Brotze.
---
References
Koka Rīga, Rīga, Neputns, 2001, pp.92.,96.
Latvijas piļu un muižu asociācijas mājaslapa, visited in 18th June 2009
No Spilves līdz Zundam. Izstādes katalogs. Rīga, 1999.
Broce J.K. Zīmējumi un apraksti, 2.sējums, Rīga, Zinātne, 1996, pp.270.,319.
Latvijas armijas ģenerālštāba kartes. 1930.
Enciklopēdija Rīgas ielas, 2.sējums, Rīga, 2008, p.25.
Plan von Riga, 15 November 1917.