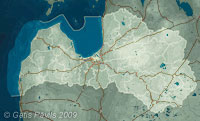 Coordinates:

56°57'25,56'' N 24°04'02,71'' E Google Maps
(localisation not exact, possible mistake up to 300 metres)
More information:
Zasumuiza manor is known since 17th century - vast land properties belonged to this manor. It seems that over the time the location of the manor centre has changed - the latest manor centre could be localised in the area of present day Botanical garden. Here is decribed the location near Daugavgriva Street - manor centre where was located also a paper mill.
History
Zasumuiza got its name from its first owner in 17th century and it gave name to whole neighborhood of Riga - Zasulauks.
In 1759 part of this manor was purchased by mast sorter Janis Steinhauers and he built his manor on his properties. Family of Steinhauers came to Riga at the end of 17th century from Courland. He buil a paper mill on the stream (not visible today) which then was going along Dzeguzkalns Hill in 1764 as well as windmill nearby. This was the first paper mill in Riga.
In Zasumuiza there was established also a Unity of Brethren (Moravian Church). After the death of Janis Steinhauers the manor was inherited by his son Daniels (1721-1761). Daniels could not maintain enterprises of his father due to increased competition and because he had to share his fortune with numerous relatives.
Creditors of Steinhauers family sold the manor in 1792 per 9000 thalers to officer of Riga customs house K.Jannau. Also Jannau could not maintain paper mill - he sold the manor to merchant and banker B.K.Klein in 1801. Klein leased out the manor. Equipment of Zasumuiza paper mill was sold to Ulbroka paper mill in 1806. At the beginning of 19th century manor belonged to the influential family of Zuckerbecker. In 1856 (1833.?) whole Zasumuiza was purchased per 30 000 silver roubles by manufacturer K.A.Tilo, he opened also a factory school for children of workers in order to prepare future foreman for his factories.
Traditionally in the area of this manor there were living Latvian craftsmen - fishers, cabmen, ferrymen etc. Their forefathers were runaways from rural patrimonial estates who after two years in city were free of serfdom. In 1797 here were living 58 families of free farmers, servants, factory workers. In 1812 as the troops of Napoleon approached, wooden buildings in Zasumuiza manor were burned down. Most part of the land in Zasumuiza was divided in building plots and sold. In 1913 the owner of Zasumuiza D.Schnakenburg offered to the city to buy the manor - he offered approximately 270 hectares per 650 000 silver roubles. Riga city purchased the manor. Schnakenburgs offered the manor for sale earlier, at the end of 19th century several times.
Description
Centre of manor has been shown in the work of J.C.Brotze (4., p.39.), also in the map from 1798. Map shows several buildings at the name of manor - thus it is not clear which one is the manor house. It is possible that manor house is located close to the windmill - may be they form one building.
Images
---
References
Koka Rīga, Rīga, 2001, p.92.
Kaupuža D. Rīgas muižiņas, Latvijas architektūra, Rīga, 2005, p.95.
Izstādes Zasulauks un Āgenskalns buklets, Rīga, Latvijas Valsts vēstures arhīvs, 2001.
Broce J.K. Zīmējumi un apraksti, 2.sējums, Rīga, Zinātne, 1996, pp.39.,282.
Enciklopēdija Rīgas ielas, 2.sējums, Rīga, 2008, p.186.