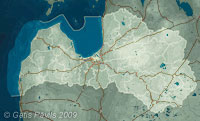 | | |
| --- | --- |
| Coordinates: | 56°56'52,82'' N 24°04'36,39'' E Google Maps |
| | |
| --- | --- |
| No: | 29 (list of all monuments) |
| Category: | Palaces and manor houses |
| Address: | Riga, Agenskalns, Daugavgrivas Street 19/21 |
| Versions of name: | Hagen manor, Hagenshof, Schwarzhof, Schwartzenhof |
| Year of construction: | Circa 1850. |
| Arhitekts: | M.Holst |
| Architectural style: | Neo-Classicism, Neo-Rennaisance |
| Condition: | Good |
| Value: | Architecture |
| Conservation status: | Architecture monument of local importance No 7716 |
More information:
The current building of Svarcmuiza mansion is built circa 1850 but the history of the manor is much older. On the properties of this manor has developed one of the most interesting historical suburbs of Riga - Agenskalns.
History
Agenskalns (Hagensberg) got its name in 17th century directly from this manor.
In 17th century the magistrate of Saaremaa land, later president of Riga head consistory Heinrich Hagen here built a rather small manor house. At the beginning of 18th century owners of the manor became the members of Berens family. In 1768 representative of this family Johanna Sophia Berens (1750 - 1806) married to Riga burgomaster Adam Heinrich Schwartz (1740 - 1800). Later Schwartz inherited the manor and it was named Svarcmuiza. Rules of the inheritance ordered that manor should keep its name "Hagenshof" and it should be property of Schwartz family. In 1786 the area of the manor was included in Riga city. In 1812, as the forces of Napoleon approached to Riga, wooden buildings (most of them) in Agenskalns manor were burnt down.
Current manor house has been built in the former manor centre in the middle of 19th century.
At the end of 19th century properties of manor were parceled and put on sale for erection of buildings. Document from 1853 testifies that on the lands of Svarcmuiza manor (e.g. Agenskalns) there were 292 houseowners.
Only in 1873 Schwartz family become rightful owners of manor – then the owner is Johann Christoph Schwartz (1846 - 1915). Schwartzs left Riga in 1890 and sold manor house at the beginning of 20th century. After the First World war Riga city took over whole area of manor. In 1930ies in the building there were located the younger classes of the 7th secondary school. After the Second World war the building was used by USSR occupation army until 1970ies. As the army left the building it was abandoned for a while until in 1997 Latvian State Archives started to use it. In this year there took place reconstruction of the building. Currently it is used by the Central Laboratory for Microfilming and Restoration of Documents.
In the map of J.C.Brotze this manor has been marked as "Hagenshofs Wirthshaus", it depicts the second half of 17th century (1657). Near this manor (in its place?) in the compilation of J.C.Brotze, in the map of another author "Surroundings of Riga in Swedish times" (1657) there is shown Berendshof - manor of Berens.
Description
The building has been formed in Neorennaisance style, in a way resembling the architecture of Roman villas.
Legends
Svarcmuiza mansion is one of the rare places in Riga with several ghost stories about it. At the end of 19th century several legends have been written down by K.Untins.
At the last quarter of 19th century there burned down the barn of Svarcmuiza mansion – there were linked numerous ghost stories with it. There have been seen refined gentleman dancing hellish dances and phantoms forging golden thalers. Thus, for example, one Daugava ferryman was living near Viesturdarzs (opposite bank of Daugava). Around the midnight there knocked one elegant gentleman at his door. Gentleman put golden coins in the palm of ferryman and asked to take him across the river to Svarcmuiza.
When they got across Daugava, gentleman asked the ferryman to wait for him. But ferryman secretely followid him. He looked in the barn and saw there beautiful room adorned with mirrors and chandeliers. Exquisite gentleman were dancing here. Suddenly a cock-crow came and it became dark and silent in the barn. Ferryman got sick from worries and for several months was undergoing a cure.
Images
---
References
Koka Rīga, Rīga, Neputns, 2001, 60., 212. lpp.
Kaupuža D. Rīgas muižiņas. Latvijas architektūra, Rīga, 2005, 95. lpp.
Izstādes Zasulauks un Āgenskalns buklets, Rīga, Latvijas Valsts vēstures arhīvs, 2001.
Latvijas piļu un muižu asociācijas mājaslapa, visited on 12th June 2009.
Rigasche Familie Schwartz (look at the old images of manor there!)
Broce J.K. Zīmējumi un apraksti, 2.sējums, Rīga, Zinātne, 1996, 33., 272. lpp.
Enciklopēdija Rīgas ielas, 2.sējums, Rīga, 2008, 240.lpp.