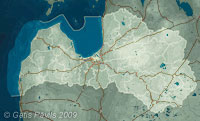 | | |
| --- | --- |
| Coordinates: | 56°56'55,44'' N 24°04'28,89'' E Google Maps |
More information:
Seemingly unsighty house most likely is one of the oldest wooden buildings in Riga.
In the map of Hagen manor area from 1757 there is already shown a building – property of "Der Pusmuizeneek". Most likely this was a residence of the manager of Hagen manor.
At the first half of 20th century this building was property of the owner of enterprise "Centrālviesnīca" Bomis.
Initially this building had features of Barocco style. Throughout the rebuildings the initial features have been lost, below the layers of plaster there is hidden porch with arcade towards the courtyard as well as ornaments of fachwerk and horizontal logs.
Images
---
References
Kaupuža D. Rīgas muižiņas. Latvijas architektūra, Rīga, 2005, 95. lpp.
Latvijas piļu un muižu asociācijas mājaslapa, visited in 12th June 2009.
Enciklopēdija Rīgas ielas, 2.sējums, Rīga, 2008, 241.lpp.