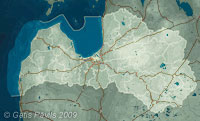 Coordinates:

56°55'50,71'' N 24°04'38,85'' E Google Maps
(localisation not exact, possible mistake up to 400 metres)
More information:
Mara pond once was especially picturesque. At its bank, in the front of Altona manor there was located luxuriant manor house built in Neo-Classicism style. There was floating openwork bridge across the pond in front of manor. Building had one floor with two-floor annex – rotunda. This annex had cupola-shaped roof standing on four columns.
The bridge across Mara pond existed also in 1879.
References
Koka Rīga, Rīga, Neputns, 2001, 93., 202. lpp.