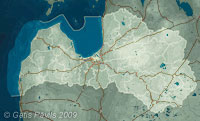 | | |
| --- | --- |
| No: | 5 (full list of landmarks) |
| Category: | Medieval castles, Palaces and manor houses |
| Address: | (Kuldiga district), Kuldiga region, Edole municipality, centre of Edole village, left bank of Vanka stream |
| Year of construction: | First third of 14th century |
| Architectural style: | Facade in Neogothic style (reconstruction from 1840) |
| Condition: | Good |
| Values: | Architecture, archaeology |
| Conservation status: | Archaeology monument of state importance No.1210, architecture monument of state importance Nr.6327 (together with the fortification rows and park). |
Most likely Edole castle was built at the first third of the 14th century by Courland Bishopric. In spite of numerous changes the castle has preserved ancient, weighty aura complemented with numerous legends. Edole castle is the only castle of Courland Bishopric which is still in use today.
Medieval part of the castle is 31,5x34,5 metres large, four blocks of the castle enclose inner yard. During the rebuildings of 18th - 19th centuries there has been created one more - household inner yard.
Chronology
First third of 14th century - most likely time when Courland Bishopric builds the castle
1561 - Behr family gets Edole castle
Second half of 16th century - construction of additional fortifications including the round tower
Second half of 17th century - castle is rebuilt into residence of landlord
1840 - rebuilding in Neogothic style
1905 - castle is burned down by revolutionaries
1906 - 1916 - renewal and rebuilding