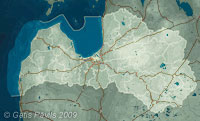 Although current Mezotne palace has been built in 1802, manor is older. Up to the construction of the new palace the large building next to Lielupe served as manor house. Afterwards it was turned into manager's house and was rebuilt in early 19th century.
In 1930ies the formerly expressive building was rebuilt beyond recognition and now little tells about the long history of this building.
In the engraving of W.Stavenhagen the old manor house is seen in the central part of picture, between the new palace (rightmost building) and dairy (building at Lielupe bank next to bridge).
Images
---
Linked monuments
References
Enciklopēdija Latvijas pagasti'2. Rīga, Preses nams, 2002
Pearls of Latvia, 2000.
State Heritage Inspection Website http://www.mantojums.lv, visited on 26th September 2009
Website of Association of Latvia's Castles, Palaces and Manors http://www.pilis.lv, visited on 26th September 2009