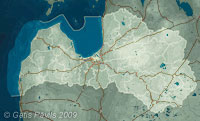 | | |
| --- | --- |
| No: | 214 (full list of landmarks) |
| Category: | Parks and gardens |
| Address: | (Bauska district), Bauska region, Mezotne municipality, in Mezotne, at the bank of Lielupe |
| Year of construction: | 1790ies - early 19th c. |
| Architect: | J.G.A.Berlitz |
| Style: | Landscape |
| Area: | 14,4 ha |
| Number of exotic tree and shrub species: | 33 |
| Condition: | Very good |
| Values: | Architecture, biology |
| Conservation status: | Architecture monument of state importance No. 6174 - whole manor complex with the park. |
Mezotne park is one of the most expressive and best planned landscape parks in Latvia.
In the planning of park there is felt influence of two styles - romantic - from Baroque age (18th century) and natural - from Neo-Classicism age (early 19th century).
Park is approximately 700 metres long and circa 200 metres wide, stretching along Lielupe. Along Lielupe there leads picturesque trail but along the opposite rim of park - one of the best lime-tree causeways in Latvia.
Park in the north starts from Mezotne palace - one of the most beautiful Neo-Classicism style buildings in Latvia.
In the park there is located a tombstone relocated here in 1970ies, as well as monument - cross to soldiers fallen in I World War.
In the park there were also two Neo-Gothic pavilions. Only foundation of one remains today.
Part of the park closer to the palace with area circa 4 ha has been shaped as open grassland - thus there are opening numerous beautiful sights on palace from the park and on park from palace. Sometimes the landscape is suppemented with a herd of sheep. Important attraction point is single oak-tree in furthest part of grassland.
Further away from the palace the trees are getting denser.
Circa 2 ha of the area of park - southernmost part - is partitioned with a glen and pond in this glen. In this part of park there are more conifers.
Special feature of park is visual, ilusory inclusion of Lielupe River and landscape behind it in the park. In opposite bank of Lielupe there is vast floodplain which is surrounded with steep bank covered with lush broadleaved forest. Here was located ancient Semigallian settlement with two fortified hillforts. On floodplain there is also a group of trees which serves as accent for several vision slits.
In the park there grow such non-local species of trees as;
European larch (Larix decidua Mill.)
Common horse chestnut (Aesculus hippocastanum L.)
Pyramidal English oak (Quercus robur ´Fastigiata´ L.)
Siberian Fir (Abies sibirica Ledeb.)
Silver maple (Acer saccharinum L.)
Eastern white pine (Pinus strobus L.)
Other images
---
Linked monuments
Mezotne centre ancient graveyard
Mezotne park oak-tree
References
Pearls of Latvia, 2000.
State Heritage Inspection Website http://www.mantojums.lv, visited on 26th September 2009
Janele I. Vecie lauku parki. Rīga, 1980.