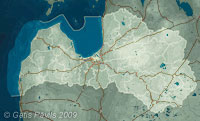 | | |
| --- | --- |
| No: | 4 (full list of landmarks) |
| Category: | Medieval castles, Palaces and manor houses |
| Address: | (Talsi district), Dundaga region, Dundaga municipality, centre of Dundaga, Pils Street 12 |
| Year of construction: | End of 13th century |
| Architectural style: | Details in Neogothic style (reconstruction of 1909) but none of styles is dominant |
| Condition: | Rather good |
| Values: | Architecture, archaeology |
| Conservation status: | Archaeology monument of state importance No.2199, architecture monument of state importance No.6739. |
The special charm of Northern Curonia is shaped also by legendary Dundaga castle - medieval castle built by Riga Archbishopric. Later it belonged also to Livonian order, Courland Bishopric, Osten-Saken family and others.
The 48x69 metres large castle consists of four blocks enclosing inner yard.
As times went by the castle experienced significant changes, it has suffered also in warfare. During the last centuries it has suffered in fires. In spite of this Dundaga castle has survived up to this day and it has accumulated peculiar, weighty aura of olden times.
Chronology
End of 13th century - collegium of Riga clergy builds the administrative centre of Dundaga region - a castle
1318 - Dundaga castle first mentioned in written documents
1656 - castle captured and looted by Swedes
End of 17th century - castle rebuilt as a residence of landlord
1872 - interiors of the castle perish in fire
1905 - fire in the castle
1909 - castle rebuilt and modified