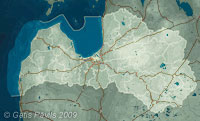 | | |
| --- | --- |
| No: | 9 (full list of landmarks) |
| Category: | Medieval castles, Palaces and manor houses |
| Address: | (Riga district), Sigulda region, Sigulda, Turaida, Turaida Street 10, right bank of Gauja, upper edge of valley |
| Year of construction: | 1214 |
| Architectural style: | Brick Gothic |
| Condition: | Partly rebuilt, partly ruins |
| Values: | Architecture, archaeology |
| Conservation status: | Archaeology monument of state importance No.2147 (together with the hillfort), urban planning monument of state importance No.7445 (together with the rest of historical buildings in Turaida, Krimulda and Sigulda). |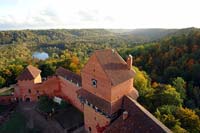 View to the south-west from the main tower of Turaida castle, great semi-circular tower in forefront
2008.09.28.
One of the oldest visible castles in Latvia is Turaida castle - it is built in 1214 for Riga Bishop and has experienced more warfare than most other medieval castles in Latvia.
Few buildings in Latvia are located in such a splendid landscape - castle is set on some 80 metres high strip of land at Gauja River. There is marvellous view from its 27 metres high tower over the forested Gauja valley.
Not inhabited since 1776 and gradually was turning into ruins - until in the second half of 20th century there started rebuilding to boost the tourism and rise the knowledge level.
Chronology
1207 - Lands of Turaida come inder governance of Riga Bishopric
1214 - bishop of Ratzeburg builds a masonry castle, initially named Fredeland
1298 - castle is captured by Livonian order, governs it for 68 years. Later Livonian order captures the castle some more times
Middle of 17th century - castle looses significance of fortification and gradually turns into residence of landlord
1776 - castle is abandoned after a fire
Second half of 20th century - gradual renewal of the castle for purposes of cultural education