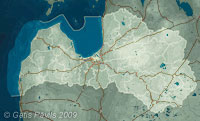 | | |
| --- | --- |
| Coordinates: | 56°56'58,68'' N 24°03'09,61'' E Google Maps |
| | |
| --- | --- |
| No: | 173 (list of all monuments) |
| Category: | Palaces and manor houses |
| Address: | Riga, Zasulauks, in Kandavas Street 4/6, inner yard |
| Versions of name: | Ashgrowe |
| Year of construction: | 1877 |
| Architectural style: | Neo-Classicism |
| Condition: | Poor |
| Value: | Architecture |
| Conservation status: | Architecture monument of local importance No 7723 |
More information:
Up to the present day there has been preserved large wooden building with two floors with nice details of late Neo-Classicism style and some influence of other Ecclectic styles. Most likely this s not manor house and is built for the needs of health resort.
Next to the former Karleja half a manor next to it has been preserved, although it is rebuilt significantly. Now it is stone building with two floors, here was opened shelter for children in 1920, it was located here up to 1975. Earlier here was located Trautmann private clinic - nice building in the middle of wast garden. Here was located also so called dietary pansion - dietary health resort of Dietrich, built in 1877. Rebuilt in 1902 after the design of H.Pirang. In this building at the beginning of 1920ies there was kindergarden for jews, then - city kindergarden. it is possible that this is the building of Piladzbirzs manor.
In the spring 2009 there were started large scale reconstruction works in the beginning which were abandoned.
---
Images
---
References
Koka Rīga, Rīga, Neputns, 2001, 91.lpp.
Rīgas ielas, enciklopēdija, 3.sējums, Rīga, 2009.g., 307.lpp.