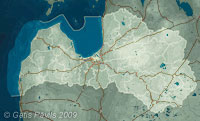 | | |
| --- | --- |
| Coordinates: | 56°57'01,85'' N 24°06'05,85'' E Google Maps |
| | |
| --- | --- |
| No: | 164 (list of all monuments) |
| Category: | Mācītājmājas |
| Address: | Riga, Vecriga, Pils laukumā 5 |
| Year of construction: | 1785? |
| Architectural style: | Early Neo-Classicism |
| Condition: | Good |
| Value: | Architecture |
| Conservation status: | Architecture monument of state importance No. 6596 (together with the Church of Our Lady of Sorrow) |
More information:
Vicarage forms a part of the complex of the church of Our Lady of Sorrow. This complex includes the church itself and block at Daugavas gate and Daugava embankment.
Image from 1760 shows one-floor building which could be included in present day building but most likely - demolished. It is considered that present-day building has been constructed in 1785, approximately at the same time as church. Back then - in 1782 - 1783 there was alloted a location for construction of Catholic church and building for clergy - in former Pilsgravis there were demolished the old wooden buildings and old church as well.
Nowadays vicarage is three-floor building with French roof. In the centre there are pilasters characteristic for Neo-Classicism. Inside there have been found remnants of former chimney. In the drawing by J.C.Brotze from 1791 the building looks similar - but the church next to it looks a lot smallr than today. Brotze mentions that in this house there is living head of engineering troops. In another document there is mentioned that this house was ihabited by construction engineer Zigismund Zege von Laurenberg.
It is possible that the rooms had polychrome coloring - but it has been carefully removed with blowlamp in 1980ies. There still are preserved old stairs and white Dutch tile stove. There have been lost the expressive accents on the corners of the building (seen in drawing of J.C.Brotze), windows at the end facades, there has been transformed heating system, design and amount of dormers.
Images
---
References
Maija-Elizabete Meņģele, Ilmārs Dirveiks. Unikāli mūsu arhitektūrā, mākslā, vēsturē - Rīgā, L.Pils ielā 5. Dabas un vēstures kalendārs'1986, 1985.
Zilgalvis J. Mācītājmuižas Latvijā. Rīga, Elpa, 2002, p.41.