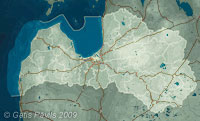 Coordinates:

57°03'17,28'' N 24°05'33,80'' E Google Maps
(localisation not exact, possible mistake up to 60 metres)
More information:
This manor is marked already in the map from 1700 (3.).
Photograph from the late 19th century shows a wooden manor house from middle - late 18th century, it resembles large rural house.
Perished in latest decades.
Images
---
References
Koka Rīga, Rīga, Neputns, 2001, p.98.
Kaupuža D. Rīgas muižiņas. Latvijas architektūra, Rīga, 2005, p.95.
Broce J.K. Zīmējumi un apraksti, 2.sējums. Rīga, Zinātne, 1996, p.462.