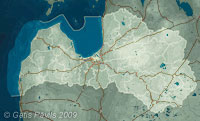 Coordinates:

56°59'55,80'' N 24°04'00,12'' E Google Maps
(localisation not exact, possible mistake up to 150 metres)
More information:
Land of future manor was let out by the first duke of Courland Gotthard Kettler to Franz Oldheveling in 1572. Name of this manor comes from its later owner - Karsten Koke, Latvian version has transformed it to Koku muiza (manor of Trees). Not preserved.
---
References
Rīgas pilsētas administratīvo robežu karte, 1930
Pope A. Rīgas galvenā nomale, Rīga, Zelta grauds, 2005, p.15.