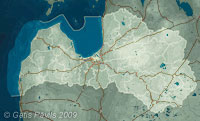 | | |
| --- | --- |
| Coordinates: | 57°00'14,18'' N 24°07'26,37'' E Google Maps |
| | |
| --- | --- |
| No: | 133 (list of all monuments) |
| Category: | Urban apartment houses |
| Address: | Riga, Sarkandaugava, Tvaika Street 44 |
| Versions of name: | Villa of Bingnera |
| Year of construction: | 1897 - 1899 |
| Arhitekts: | F.Zeiberlich, R.Hoizermann |
| Architectural style: | Neo-Rennaisance |
| Condition: | Good |
| Value: | Architecture |
| Conservation status: | Architecture monument of local importance No 8193 |
More information:
Villa of the owner of brewery "Waldschlösschen" Dr. A von Bingner is built in Eclectic style and has got large park around it. Architecture of this building shows influence of French and dutch Neo-Rennaisance style.
Nowadays in this building there is Museum of Latvian Culture "Dauderi". Villa is surrounded by landscape park with artificial ruins.
Images
---
References
Krastiņš J. Eklektisms Rīgas arhitektūrā, Rīga, 1988
Krastiņš J., Strautmanis I. Lielais Rīgas arhitektūras ceļvedis. Rīga, Puse. p.458.